No matter what the style or vintage of a home, its kitchen must have a remodel to be inviting, fresh and practical for everyday routines. And if you're thinking of selling your home anytime soon, a workable, up-to-date kitchen will be a focal point for potential buyers and a big factor in their perception of your home's overall value.
It's true that kitchen remodels can cost a pretty penny, but there's a lot you can do to spruce up a kitchen on a limited budget. Choose a few of the following kitchen elements as targets for change and an upgrade in home value, whether you plan to sell or stay for a while.
Creative countertops: Change the view and simplify kitchen workspaces by replacing the countertops. If you have a smaller kitchen, enjoy one of the benefits of its scale by shopping natural stone remnants for a high-end look at a fraction of the usual cost. Natural stone tile makes for another appealing, cost-effective countertop option, and there are also several green countertop materials with both the sustainability and style to appeal to potential buyers.
A better backsplash: Don't stop at the countertop! Continue or complement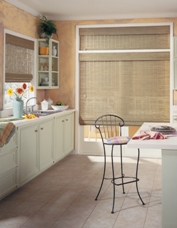 your countertop look behind the sink in the backsplash zone. The backsplash is also an opportunity to showcase beautiful tile work which, again due to the smaller-scale surface, takes high-end materials in an affordable direction. Tile is also now easier that ever to install thanks to advances in sheet adhesives like Bondera which allow you to tile and grout in the same day, without the use of messy mastic.
Cabinet camouflage: Cabinetry can be a huge kitchen cost, so don't yank your cabinets down just because they look a little dated and tired. Instead, refresh the cabinets you have by refinishing or repainting them.
Also consider re-accessorizing cabinetry. "Add crown molding to your cabinets, if you don't have any already," advises Matt Hedstrom of LPI Kitchen & Bath in Kenosha, WI. "For added visual interest, use crown molding in a finish that contrasts with that of the existing cabinets. That'll accentuate the architectural detailing and give your kitchen a fresher look. And upgrade or add cabinet hardware. New hardware can change the whole look of the kitchen if you do it right.
Fresh faucet: Another easy, affordable way to update your kitchen is by switching in a