Categories in How To
Explore these topics and let your next home improvement adventure begin!
recommended for you in How To
How-to tips and ideas selected especially for you from our entire archive of posts, galleries, videos, podcasts and more.
your questions in How To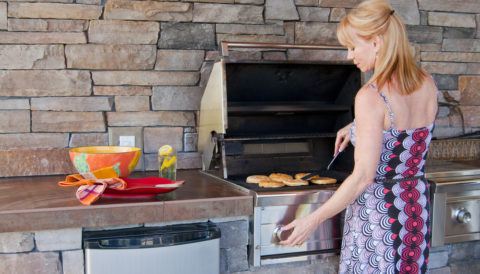 Gas Grill Cleaning Tips
After a couple of months of heavy grilling, my gas grill needs an extreme makeover of its own. Do you any tips for a mid season grill cleaning?
Our Answer
The same char broiling grill action that flavors ribs, chicken, steaks and burgers all summer long can really cause problems if you don't stop and do a thorough grill cleaning once in a while. Here's what to do:
Soak the grids in hot, soapy water and clean them with a nylon scrubbing pad. If the grids are really encrusted, use oven cleaner in a well ventilated area and rinse clean.
Remove the lava rock or ceramic briquettes and clean them with a wire brush, replacing any that are deteriorated. Remove the burner, brush it clean and check carefully for cracks, split seams or holes. If any are found, the burner should be immediately replaced.
Check all the rubber gas hoses for cracks and replace any that show the slightest sign of wear.
Once the grill cleaning is complete, you are ready to put the grill back together and check all gas connections for leaks. To do this safely, mix a 50/50 solution of liquid dishwashing soap and water. Brush the solution on all gas connections and watch for bubbles. If any are seen, the connection is leaking and should be fixed before firing the grill.
Now that you know how to clean the grill, the only thing to do is help make it dirty again! So, here's a recipe for a great barbecue sauce that Leslie likes to whip up. This is the messiest sauce out there but it is so worth it. It works on flank steak, chicken, ribs, or just about anything else you can grill.
Ingredients:
32oz bottle of ketchup
3 tablespoons garlic salt
1 tablespoon red pepper flakes
1/2 cup molasses
1/4 cup honey
Mix well in a bowl and marinate for at least three hours or overnight. Use extra sauce to brush on during grilling.  
Then, see the above gas grill cleaning instructions again!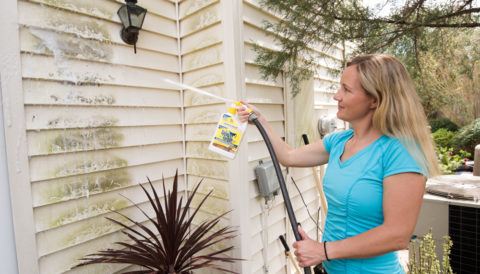 Spray & Forget vs Wet & Forget
I'm trying to determine the difference between Spray & Forget and Wet & Forget. I've heard experts from both products on your show over the years. It sounds like they do pretty much the same thing. So why choose Wet & Forget or
Spray
& Forget over the other?
Our Answer
That's a great question and you're right, both claim to do the same thing, which is to remove mold, mildew and algae growth.  But there are some significant differences.  
Spray & Forget has been out since 2002, and therefore has had the longest history of effectiveness.  Its also 3x more concentrated right out of the bottle, which delivers about 40% more product overall.  Spray & Forget lasts longer too, and it performs better on tough stains.  Finally of the two products, only Spray & Forget is made here in the USA.
Spray & Forget has been a consistent innovator in the no-rinse cleaning category, with more application options than other manufacturers.  They also continue to enhance and add to their formulations to increase performance and address new needs that homeowners want.
Check out the interview we did with Scott Dudjak, the President of Spray & Forget, below.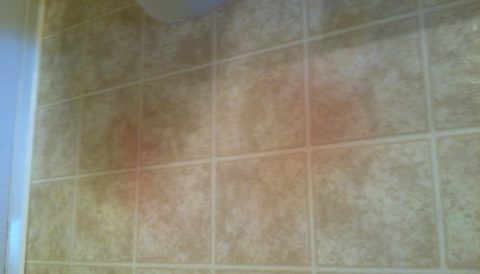 Remove Stains from Vinyl and Linoleum Floor
There are blueish stains on the linoleum floor in my bathroom, possibly caused by the rubber mat backing on an area rug. How can I remove these rubber mat stains on my  floor?
Our Answer
Though they provide warmth and comfort in baths and kitchens, rubber-backed area rugs can also leave permanent stains behind on vinyl and linoleum floors. Here's why:
Antioxidants, added to the rubber mats during the manufacturing process to prevent the rubber from drying out, react chemically with the sheet flooring. This chemical reaction results in a permanent color change. So, unfortunately, what you are seeing is not a stain that can be removed, but rather a physical change in the color of the flooring that cannot be reversed. Vinyl and linoleum flooring manufacturers often warn of this condition in their usage guides.
For example, the following paragraph appears on the website for Armstrong Floors: "Place a walk-off mat at outside entrances to reduce the amount of dirt brought into your home. We do not recommend the use of rubber- or latex-backed mats because the chemical (antioxidant) used to keep the backing from becoming brittle can permanently stain your floor. We suggest a non-staining vinyl-backed mat or a woven rug that is colorfast. Most of these products are identified "colorfast" by the manufacturer. All Armstrong floor care products have been specifically developed to care for Armstrong floors. You may purchase Armstrong floor care products at your local flooring retailer."
So, after vinyl and linoleum floor rubber mat stains have set in, your only options are to completely replace the flooring or just buy a bigger (and non-staining) area rug!
tips in How To
Easy tips to move your project from "to-do" to "done" one simple project at a time!
product reviews in How To
The latest products in home improvement, decor and more with reviews by The Money Pit's band of serial home improvers.