LESLIE: Well, when it's time to deck the halls, nothing is more confounding than finding the right Christmas tree. It's got to be sturdy, it's got to smell great and it's got to last the entire season.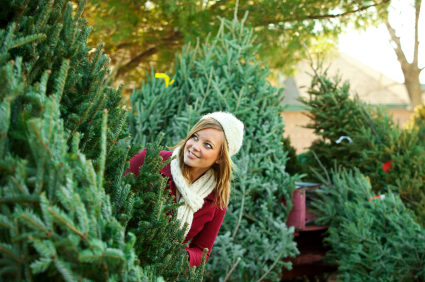 TOM: And to do just that, there are a couple of tricks of the trade that can help. Here with those is Roger Cook, the landscaping contractor for TV's This Old House.
Welcome, Roger.
ROGER: Thanks for having me.
TOM: And Happy Holidays. And this is that one time of the year where you probably look forward to cutting down those trees, right?
ROGER: I do, I do. It's a good thing to cut these guys down. But before you go out to cut a tree, there's one important thing you should know: the height of your ceiling.
TOM: I was going to say, "Measure your house," right?
LESLIE: But it's also the circumference. You really need to look at the area. Because I always buy a tree that's way too fat for the area that I'm going to put it in and it kind of hangs into the dining room.
TOM: Yeah. And I usually buy one that's too tall and leave a nice brown streak on the ceiling every Christmas.
LESLIE: I've got that, too.
ROGER: "Roger was here." "Dad was here."
TOM: Now, when it comes to choosing a holiday tree, there are many, many different types of trees that you can choose from. I went to a Christmas tree farm with my son last year and boy, the guys there just started rattling off – must have been six or seven or eight different types of trees that they had on that farm. So, how do you decide which one is best for you?
ROGER: Well, I try to buy ones that are local to the area, that have been shipped the least farthest.
TOM: OK.
ROGER: Because they were all farmed in different areas and brought in.
I also look for ones that have really stiff branches. I have a lot of heavy ornaments and if I put it on a limb and it droops all the way down, that's not a very good-looking tree.
TOM: Right.
ROGER: So I'm looking for something that has a good, stiff branch on it.
TOM: So the types that you could choose from – you've got balsam fir, you've got Douglas fir, Fraser fir and noble fir.
ROGER: Mm-hmm. Yeah, those are …
TOM: So these four different types of fir.
ROGER: They're all great Northern plants. The noble fir is not as common as the other three are. The Douglas fir has a soft needle on it. The balsam fir and the Fraser fir have a little stiffer needle on it but they are the most fragrant – the balsam fir and the Fraser fir – for me.
TOM: And that's really – an important part of the holiday season is smelling that tree.
Now, you've also got the pines: Scots pines, Virginia pines, white pines. But they don't seem to have as much aroma to them, right?
ROGER: No, I don't think they do. They're not a common plant up here for us to use. Every once in a while, you see them but I would say that 90 percent of them are going to be Fraser and balsam.
LESLIE: And I think the interesting thing …
TOM: And the pines tend to get a little sappy, too, don't they?
LESLIE: And the pines tend to not shed their needles, right?
ROGER: Yeah, they hold very, very well but …
LESLIE: So it's six of one, half-a-dozen of the other.
TOM: Right, exactly.
LESLIE: If you want it to smell great, you're going to be sweeping up needles as the seasons progress.
ROGER: Well, I've got – there's a couple things you can do when you buy the tree. I mean check it when you buy it. If you're pulling the needles and they're all falling out in your hand, then you want to go to another one.
TOM: OK.
ROGER: Before it comes home with you, after you've picked out the perfect tree, have them shake it. They make shakers that'll just rattle it and get all the dead needles off it right away so you don't get them in your house.
And then once you get home, it's water, water, water and more water. You don't want that tree to go out. I skipped one crucial step and that's you need to recut the butt.
TOM: Right.
ROGER: If it's been more than an hour since they cut it for you at the farm, cut it again.
TOM: Mm-hmm. Because that really helps the tree absorb more water.
ROGER: Yeah. And a real trick, if you like the smell of a Christmas tree: take a little branch off the back and shred it. Cut it up into little pieces and put it in a bowl right before company comes over.
TOM: OK.
ROGER: The whole house will smell like a Christmas tree and no one will know your secret.
TOM: Wow.
LESLIE: Well, that's really nice.
Now, it gets to a point, though – I water the tree every single day, religiously. You know, first thing in the morning, I come down, feed the dog, feed the kids, water the tree. At some point, it stops drinking. How do you prolong that?
ROGER: Yeah, that tells you that it's done. Unless you took the tree down and recut the base again, it's not going to absorb any more water. But hopefully, that'll be two or three weeks so that you have gotten through Christmastime. And that's one other tip is before you take the tree out, make sure you get the water out of that basin. Don't ask me how I know how but it spills all over the place.
TOM: Yeah, I like to do that. And also, the one thing that I will buy is the Christmas tree bag. Very helpful to be able to pull that up around the tree. It doesn't get all the needles but it saves you a little bit of work.
ROGER: Yeah. But see, I disagree with that because that bag is not going to be recycled or chipped.
TOM: Ah, good point.
ROGER: It's going in the landfill.
TOM: Yep, great point. Roger Cook, good advice about how to pick the perfect Christmas tree. And I guess the answer is: whichever one makes you feel most like Christmas is the right tree for you.
ROGER: That's the one.
LESLIE: Alright. Catch the current season of This Old House and Ask This Old House on PBS. For local listings and step-by-step videos of many common home improvement projects, visit ThisOldHouse.com.
TOM: And This Old House is brought to you on PBS by State Farm. Like a good neighbor, State Farm is there.