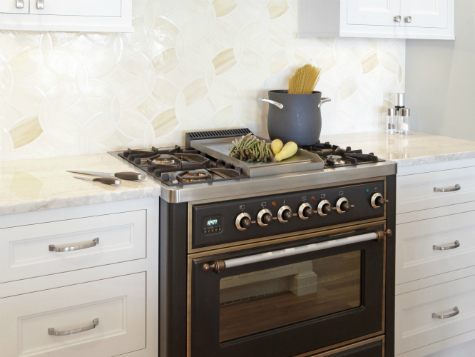 If you're considering an updated look for your kitchen this year, mixed metals are one trend you might want to try. It's a modern, unfussy look that embraces the eclectic and shuns the matchy-matchy.
Maybe you've heard the design "rule" that the finishes of your appliances should match the finishes of your plumbing fixtures, hardware and lighting. Not anymore! The mixed metals trend adds a layer of interest and dimension to a room. Combining silver and gold, or chrome and brass, or adding oil-rubbed bronze to existing fixtures will make your kitchen look livelier.
"Clients often get hung up on choosing one metal for their kitchen – either brushed or polished – like everything should match," says interior designer and home specialist Christine Donner of Christine Donner Kitchen Design, Inc. "I think this trend frees people up to mix and match without worry. By mixing metals, a homeowner can easily update their existing interiors without changing everything. It does lend a fresher look."
Donner incorporated the mixed metals trend in one of the kitchens she designed – the Branford Kitchen (pictured above). It originally was a maple stain contractor grade kitchen that was dark and crowded. Donner and the homeowner chose to make the cabinets a pure white to brighten the space and serve as a neutral backdrop for the mixed metals.
To improve the flow of the kitchen, they needed to put the range on the back wall, directly in the sight line from the living room. Because the range would be such a focal point, the homeowner chose an eye-catching model from ILVE Appliances. By mixing metal finishes, the range is the anchor in the room from which the other design elements were pulled.
Wondering if the mixed metals trend would work in your home? It can be a universal trend spanning styles and color palettes, so all types of homes – including transitional, contemporary, rustic, etc. – can benefit from mixed metal appliances and finishes. Home design trends now are increasingly eclectic, so the best advice is just to relax and pick what you like!