These days, it's not only easy and hip to be green, green renovations just plain make sense. Rising energy costs, concerns around human health, and the knowledge that our planet's resources are waning are all driving awareness and inspiring smart solutions, products, and services on the home for green remodeling projects.
With the help of environmentally friendly contractors and some thoughtful planning, green remodeling and renovations can actually increase the value of your home improvement projects. Just about any home of any age has the potential to become green and there are many possible shades of green to suit your next big improvement project.
Why green remodeling matters:  A green approach to remodeling benefits both you, in terms of a healthier home environment and lower costs, and the environment in which you live. If you doubt that one small remodeling project can have an impact, consider this news from the Sustainable Building Industry Council (SBIC): housing alone consumes 20 percent of our country's energy, and those who take a green approach to remodeling stand to lower their energy consumption by between 30 and 50 percent.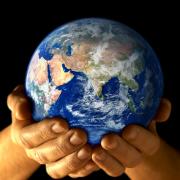 What's more, if you incorporate recycled materials or sustainable wood species into a green remodeling or renovations project, you'll help the forests of the world to keep on contributing to the world's oxygen supply.
What's involved:  Remodeling professionals are actively developing green guidelines to steer design, planning and the use of resources for projects big and small, and that makes it easier for you to find the help you need.
Participants in the National Association of the Remodeling Industry's (NARI) Green Program, for example, help homeowners to plan remodels and renovations with the following principles in mind:
Energy conservation: The average home pits heating, ventilation and air conditioning systems against an overall structure with built-in inefficiencies, so such modifications as energy-efficient appliances, thermostats, and home envelope adjustments can trim household needs and conserve precious resources.
Indoor air quality: Everything from outdoor pollutants to the off-gassing of floor coverings impacts the purity of your indoor environment. A green approach to remodeling seeks to remove such impacts through better ventilation systems and the use of nontoxic building materials.
Reduced material waste and resource conservation: Construction waste is a big deal with even the smallest remodel, so anything that can be done to lessen its impact and amp up opportunities to recycle and reuse is welcome. Building with engineered lumber, incorporating local materials, and working with a recycling company for waste removal are among the suggestions from the NARI Green Program.
Environmentally safe products: Several remodeling products and practices have the potential to harm the environment, whether through air pollution or direct disturbance of the natural landscape surrounding a home. With a green approach, care is taken to minimize or eliminate elements that could cause such harm to either the environment or occupants during and after the project.
Going Green, room by room: 
Transforming these project priorities into a green renovations reality is the next step, and the U.S. Green Building Council's consumer site,
The Green Home Guide
, is a great place to see how green remodeling can all come together.
You can also stroll through room-by-room specifics with the U.S. Green Building Council's, down-loadable
Regreen Guidelines
. A product of the USGBC's partnership with the American Society of Interior Designers, this publication covers all of the green bases with a wealth of helpful information and fully illustrated examples from the 10 most popular improvement zones of the home. Each project chapter includes a rundown of pre-design considerations, suggestions for where and how green renovations can be applied to the room in question (from HVAC upgrades to furniture and fittings), and an illustrated before-and-after review of a real-life remodel. It's fantastic inspiration for planning your own earth-friendly green remodeling or renovation project, and a helpful way to build understanding and break down any green-building language barriers before creating your strategy with a home improvement professional.