Spring is a great time to give your home's interior a new look, and painting is one of the easiest and most affordable ways to make a bold change. You could even get rewarded for your spring painting projects by entering FrogTape's Earn Your Stripes Room Makeover contest for a chance to win a $5,000 cash grand prize!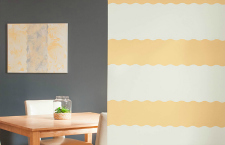 Entering is easy. First, decide on your next painting project to transform your space using FrogTape. Then, take "before," "during" and "after" photos of your project. Finally, submit your photos to Earn Your Stripes before July 1.
In addition to the 1st Prize of $5,000, FrogTape will award a 2nd Prize of $2,500 and 3rd Prize of $1,000, as well as six best-in-category prizes of $100 each, including the new Shape Tape Category. Participants will also receive a free roll of Shape Tape for their approved entry.
FrogTape's latest innovation, Shape Tape, makes it easy to paint patterns and achieve crisp lines thanks to the patented PaintBlock Technology – a super-absorbent polymer that reacts with the water in latex paint and instantly gels to form a micro-barrier that seals the edges of the tape, which helps stop the paint from bleeding.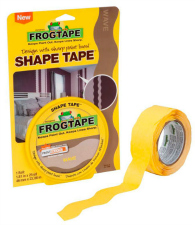 Shape Tape features a pre-cut repeating pattern ready for easy use, and provides endless design possibilities on walls, furniture and more. It's available in three on-trend patterns: chevron, wave and scallop. Go horizontal, vertical or diagonal. You can align the tape and create sections with various widths, or shift tape alignment to create unique effects.
FrogTape is available at Walmart, Lowe's and Amazon.com. For more information about the Earn Your Stripes contest and the complete rules, visit FrogTape.com.