Fall is the time to tackle winterizing projects that will see you comfortably through the chilly months ahead. Top tips for your winterizing to-do list are all about indoor comfort, energy savings and a warm welcome.
Here are helpers that will make the great indoors more enjoyable once autumn leaves begin to fall.
Enhance and protect your garage.  Winterizing your garage for the upcoming indoor season is a great  way to amp up home value with attractive space for projects and storage. Before the weather turns, take time to clean and organize your garage, and while everything's up off the floor, add a long-lasting, protective epoxy floor finish. The ready-to-use, water-based formulation will transform a concrete garage floor into an attractive asset while protecting against such automotive elements as motor oil, gasoline, antifreeze, brake fluid, salt and hot tire pick-up. The epoxy resin system behind its durable semi-gloss look also makes it easy to clean, and a built-in non-skid finish resists scuffing, fading, cracking, peeling and blistering.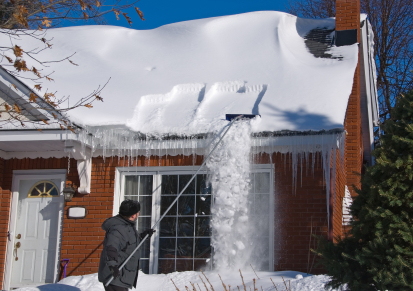 Welcome winter with style.  When winterizing your home, the addition of a beautiful, efficient new fiberglass entry door is a great way to help create a warmer welcome and add the perfect energy-saving seal to your home's envelope. Outlasting wood and steel without cracking, splitting, rotting or rusting, fiberglass entry doors are easy to maintain and made to withstand a wide range of temperatures and weather elements (even the decorative glass is impact-rated for beautiful protection). They're also Energy Star qualified and offer five times more insulating value than wood doors, contributing LEED energy-category points while increasing the perceived value of your cozy home. 
Project results that stick.  Once your indoor project space is in order, make sure it's stocked with the adhesives you'll need for planned projects and incidental fixes. Elmer's offers a range of products for home improvements, along with helpful application hints on each ergonomically-designed bottle.  One product you should definitely have near your workbench is Elmer's Ultimate Glue, a polyurethane glue that provides a permanent, strong, waterproof bond. Unlike other polyurethane products, it doesn't require special mixing, and once dry is sandable, paintable and stainable. For indoor and outdoor wood projects and furniture repairs, stock Elmer's Stainable Wood Glue. It's formulated with real wood fibers for superior staining, sanding and painting, and is consistently rated as the best wood glue by Fine Woodworking magazine. Woodworking endeavors also benefit from such Elmer's offerings as Carpenter's Wood Filler and Ultimate Nail Hole Filler. Check out all of these helpers and find the best one for your particular project with Elmer's Glue Guide.
 Insulate efficiently and sustainably.  Tightening up your home's insulation is a priority when it comes to winterizing your home. Insulation helps to keep warmth indoors while preventing valuable energy dollars from escaping. You can accomplish both with a green approach by installing Icynene, a soft foam insulation and air barrier system. Icynene, for example, can be sprayed into walls, ceilings, attics and floors where it expands in seconds to create a superior air-seal. Whether part of a weatherizing retrofit or new construction, it effectively minimizes air leakage for advanced moisture control, reduces intrusion by outdoor allergens and pollutants, and provides energy savings of up to 50 percent.
Along with contributing to energy efficiency and a more healthful brand of indoor air quality, Icynene's very formulation and application are in line with the green scene and help projects qualify for LEED and National Green Building Standards. Icynene is 100 percent water-blown, so there are no harmful HFCs (hydrofluorocarbons) that can off-gas into the indoor environment, and no PBDEs (polybrominated diphenyl ethers) to impact the health of your family. To view video of Icynene in action and find a dealer-installer near you, visit www.icynene.com.
Winterizing your home now will reward you with a warm and cozy home when winter winds begin to blow.