Tankless water heaters are a great, cost effective way to deliver hot water to your home.  They are energy efficient because they only heat water as it is needed.  They also are easily controllable because the water temperature can be changed instantly. An energy efficient water heater is important because heating water for your home is second only to heating and cooling your home when it comes to your energy dollars. There is another benefit to tankless water heaters that can provide convenience and water savings.  Tankless units are very small compared to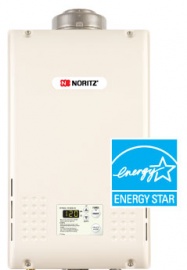 traditional water heaters.  As a result, they can be installed practically anywhere. This will bring heated water to the faucet or tap faster, alleviating the need to run water until it's hot. And tankless water heaters provide hot water that never runs out.
It is easy to use multiple tankless units to divide your domestic hot water supply into two zones.  One tankless water heater can be fed from the basement or first floor where it is a short distance to the kitchen and powder room.  Another tankless water heater can be fed from the attic or a second floor closet, where it is just steps away from the bathrooms.  With more than one tankless water heater unit, you can have both a cost effective and convenient source of hot water.
If you do decide to install a second tankless water heater unit, now is an excellent time.  The
Department of Energy is offering a energy tax credit to offset installation costs. If your current water heater is more than eight years old, it's a good time to replace it. Once a tank style water heater reaches its life expectancy, the risk of failure increases. This can lead to leaks… and an
expensive mess to clean up.
A
Noritz
tankless water heater will provide peace of mind… because you'll know your hot water will never run out. And with a potential $1500 tax credit and additional cash back incentives through your local utility – it's very affordable to switch to a tankless heater right now. The newest addition to the Noritz line of whole-home residential tankless water heaters, the
NR83-DVC
, allows professional plumbing installers to make an even stronger environmental statement to homeowners looking to shrink their monthly fuel bills as well as their carbon footprints.
Like other tankless water heaters, the NR83-DVC saves energy (Energy Factor: 0.82) and protects the environment by heating water strictly on demand, while offering a longer product life cycle than storage tank-type models. There are also lower emissions, less electrical use, smaller amounts of potentially hazardous construction materials, and easier recyclability of those materials once the product is removed from service.
This unit is specifically designed for one-bathroom homes in the Northeast, the Midwest and Canada, as well as two-bath homes in the Southeast and Southwest. At a 45°F rise in temperature, the unit will operate at a flow rate of 6.7
gpm, delivering water temperatures from 100°F to 140°F. The programmable remote controller displays temperatures in both Fahrenheit and Celsius. And the controller can be programmed to remind you to call for servicing at six-, 12- or 24-month intervals. 
As a homeowner,  you will get added peace of mind because Noritz recently extended its 12-year/6,500-hour warranty to residential models used with controlled recirculation systems that deliver hot water more quickly to the tap. The extension applies to all Noritz residential tankless water heater products that feature the company's durable, commercial-grade heat exchanger, including the brand new NR83-DVC model. And the company stands behind this warranty because of extensive tests with its water heaters, against the competition. "It's not good enough to extend a 12-year warranty as just another marketing tool," explains Bob Hitchner, Senior Vice President – Sales, Marketing & Business Development for Noritz.  "We needed to know whether our heaters are truly meant for this kind of use. The tests validated that Noritz products with commercial-grade heat exchangers could stand up to the heavy demands of a recirculation system while also outperforming the competition."
Noritz tankless water heaters are a good choice for homeowners who want to save money, be kind to the planet and get unmatched reliability. With the Federal Tax Credit set to expire at the end of 2010 and the local utility rebates going fast, there has never been a better time to make the switch! Visit
www.lovemyhotwater.com
for details.