Just a few years ago, the thought of owning an emergency standby generator seemed silly – reserved only for doomsday prophets or hospital, schools and businesses. Enduring a power outage was just a nuisance you had to deal with. Not anymore. Now, living without electricity is all too common and many homeowners can't afford to ride out another power outage. Without electricity, basements can flood. Security systems can falter. Home businesses can fail. You don't realize how much you rely on electricity until it's gone. Today, homeowners are installing home standby generators in record numbers to protect their families and investments. 
How you pick a backup generator is probably your most important step. If you are considering a backup generator, there are two basic types: the portable electric generator and the standby electric generator. A portable generator can work well for most people. The key to picking the perfect emergency portable generator
is to pick the right style first, then pick the right wattage.   This is not the kind of generator you would take camping or tailgating. On the other hand, you don't need to go overboard with a professional-grade model either, unless you're a contractor using your generator on a daily basis.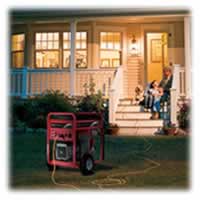 The experts at
www.electricgeneratorsdirect.com
recommend purchasing a portable generator specifically designed for "Emergency Power" and reinvesting the savings into a generator with additional wattage. N Electric Generators Direct categorizes their emergency portable generators into three sizes: Medium, Large and X-Large.
Medium
portable generators (3,000-6,000 watts) will power multiple survival appliances, including your refrigerator, sump pump, furnace fan and several other appliances. Mid-sized gas emergency generators won't, however, power your entire home. Nor do they pack a big enough punch to turn over a central air conditioner. 
Large
portable generators (7,000-9,000 watts) will restore power to multiple rooms in your home. This is because most homes older or smaller homes have 100-amp service. But in reality, most homes never draw all 100 amps of power. They often fluctuate somewhere above 50 amps, depending on how many appliances are running. Large emergency generators produce 30-amps worth of electricity. So, in theory, they can power a good portion of an older or smaller home.
An
X-Large
portable generator (10,000+ watts) will supply enough electricity to restore power to small homes, including some central air conditioners. This is a good option if you want most of your home powered during an outage, with the least amount of disruption to your home's essential systems.
Now that you know how to pick a portable standby generator, you can make your buying decision confidently and be well on your way to protecting your home and family when the next outage happens.