Let's face it, sometimes in our harried worlds, it's the little things we do for ourselves that count the most. Home improvement is no different and completing a simple project that does nothing but deliver a bit of luxury to a busy life can pay big emotional dividends.   Here are some of our favorite product recommendations. 
Pegasus Innovative Wagon Wheel Showerhead– Nothing beats a rain soaking shower when you need to relax.  The innovative Pegasus Wagon Wheel Shower looks really cool and delivers a spa like soak down through 10 Pillar sprays and a 14 inch shower arm.  Installing a shower head is a simple do-it-yourself project and this one can have you thoroughly saturated in seconds.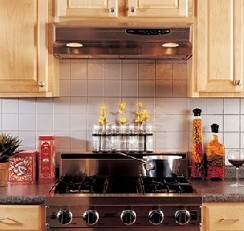 Hampton Bay Mediterra Gazebo – Sometimes the best way to add luxury to your house is to get out!  Creating outdoor rooms is becoming a lot easier thanks to products like the Hampton Bay Mediterra Gazebo Kit that can virtually create the space for you.  Plop it down on your lawn or for a more permanent place, use brick pavers or natural stone to avoid damage to the grass.  The frame is made from powder-coated rust resistant steel and aluminum and mosquitoes can be kept a bay by simply pulling the included netting closed.  Available for $399 at The Home Depot.
Woodhaven Ceiling Planks – Interior designers often refer to ceilings as the "fifth wall."  Armstrong's Woodhaven Ceiling Planks are a spectacular home improvement at a fraction of the cost of real wood ceilings.  The planks create the texture and color of the real thing, but are dimensionally stable which make them a great choice for damp or wet spaces like baths, kitchens or basements.  They are available in 10 varieties and cost runs $3.25 per foot.  Planks can be attached using Armstrong's Easy Up® Installation Kit, a simple tracking system and clips to install the tongue-and-groove planks.
Natural Fusion Luxury Flooring by Armstrong – If you think vinyl flooring can't deliver a luxurious look and feel, think again.  The new Fusion luxury floor by Armstrong looks uses a technology patented by Armstrong that creates flooring in a range of realistic textures and glosses.  The result is wood that looks and feels more like authentic wood and stones that look and feel more like natural stone.  Besides beauty, the product uses the same poly-carbonate material used in bullet proof glass, combined with the same aluminum-oxide that sandpaper is made from to deliver an incredibly durable surface that wears well and is easy to clean.  Natural Fusion is a good example of how technology can really come together to create a product that delivers the old-world luxury with modern day durability.  Available for $2.50 – $2.95 per square foot.
Wilsonart® HD High Definition Laminate – Using the same technology that makes laminate floors look so incredibly realistic and durable, Wilsonart High Definition laminate is both intriguing to the eye and three times as wear resistant as standard laminates.  Patterns are based on those of ancient stone, sedimentary fossils and age-old metals.  What is perhaps most interesting is that just like the natural materials it emulates, the colors change with the light, becoming warmer in sunlight and more radiant in the evening.  Designs include Flint, Fossil, Glaze, Bronze, Agate, Jade, Mineral and Slate and start at $5 sq ft. for the laminate itself, $14-$20 installed.