High winds can be a danger to your home any time of year, but they're a particular worry in many regions of the U.S. during the hurricane season that stretches from June to November. It isn't just the high-speed force of the winds themselves, but also the debris they carry with them that can create a chain reaction of structural damage.
 Newer homes in hurricane zones now have built-in protection thanks to strict codes, but if your home is older and potentially in the path of seasonal winds, you can protect it by tending to the following wind proofing ideas and tips.
Halt wind damage at the door:
Having strong, stable, doors is a must when protecting against high winds. You not only need to be sure yours will stay closed and on their hinges, but also stand up to the heavy, high-speed debris that can actually bust through a closed door. For a dramatic view of what can happen when high winds hurl debris, take a look at a recent impact test done by Therma-Tru Doors. The
video
shows what happens when a two-by-four traveling at 35 miles per hour hits a standard wood door?pretty scary, and even scarier when you know that hurricane-force winds can move up to and over 140 mph.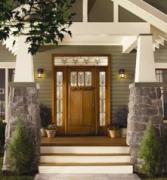 You can prevent such wind damage by upgrading all doors with impact-resistant fiberglass doors such as those in Therma-Tru's
Tru-Defense
collection of high performance
entry
and
patio
doors, components and certified systems. Tru-Defense meets and exceeds code requirements in coastal regions and other areas of the country with extreme weather conditions, and the broad range of styles in the collection allows for strong curb appeal as well. In general, fiberglass doors are a great choice for an entry system because they won't rot, crack or split like wood doors or dent, rust or corrode like steel doors. What's more, Therma-Tru's fiberglass entryway doors are Energy Star compliant and offer five times the insulation of wood.
Garage door reinforcement: In high wind conditions, the bigger your garage door, the bigger the risk of damage. That double-wide garage door may look impressive, but it doesn't take much of a wind to push in the center and pop it off of its roller tracks. When this happens, wind pressure fills the rest of the house with air and causes severe damage, essentially blowing up a structure rather than blowing it down.
To wind proof your garage door, consider installing a reinforced garage door designed for high wind environments. For existing homes, you can also strengthen your garage door with a high wind upgrade kit. These kits consist of several horizontal metal braces that are easily installed with a drill or screwdriver; to determine how many braces you need, just count the number of panel sections that make up the door and install one brace across the center of each panel. As an added precaution when high winds arrive, park your vehicles inside the garage and close to the door, and then carefully back the vehicles tightly against the door for additional support.
Wind proof windows: Just like a wind-busted door, a broken window can impact the structural integrity of a home. Replacing existing windows with impact-resistant glass models is a smart investment. Much like car windows, storm proof glass consists of two layers with a tough inter layer in between that holds glass in place if it breaks. Shop for impact resistant glass with a high design pressure (DP) rating, which tells you how resistant a window is to positive and negative air pressure, rain and wind (DP ratings of 50 or higher meet the strictest national standards held by Dade County, Florida).
Storm shutters are also important if you live along the coast. You can have these professionally built or make your own from half-inch plywood stamped "CDX" that's cut to fit the outside of each window. Pre-drill 1/8-inch holes every 12 inches and secure to the windows with screws. To minimize cosmetic damage, mark where each storm shutter goes that way, you'll be able to use the same screw holes and have fewer repairs to make after high winds pass.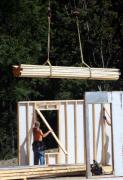 Hurricane tie-downs:
Roofs often go first in severe storms, so wind proof your home with simple metal "tie-down" straps to keep roof rafters tied to the top wall of your home and prevent uplift during the hurricane high winds. These straps can also secure walls to floors and keep floors tied tightly to foundations. This wind proofing improvement does require some specialized skills but is generally simple and inexpensive to accomplish.
Secure siding:
Wind can also do damage when it gets under the "skin" of your home, loosening and even ripping away vinyl and aluminum siding. If you're due for a redo of your home's exterior, consider a more storm resistant, wind proof product, like
fiber cement siding
. Fiber cement siding offers great protection in a range of climates and environments, along with the style flexibility of a paintable surface and varied textures.
Trim trees: Survey your yard for weak tree branches that lie within crashing distance of your home, and trim them away before the hurricane winds arrive. You can also prevent the uprooting of larger trees through the trimming of branches to allow high winds to flow through.
Prevent projectiles: Every item left outside of your home can become a dangerous projectile when fueled by high winds. Remove all outdoor furniture, toys, garbage cans, flowerpots and any other piece of personal property you're able to move is the best way to wind proof your yard and prevent these items from damaging your house.