Milgard Windows & Doors, a leading manufacturer of premium fiberglass and vinyl windows and patio doors, introduced the 3D MAX™ energy efficiency package in 2008, making it easy for customers to buy windows based on energy performance. The perfect balance between cost and efficiency, 3D MAX is specifically tailored to the homeowner's climate, allowing customers to save money with these energy efficient windows.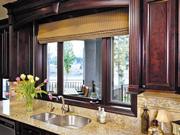 As part of the new economic stimulus package, homeowners can qualify for a tax credit of up to $1,500 when they purchase and install energy-efficient Milgard windows to improve their home's comfort and energy performance. The credit covers 30% of material costs up to the $1,500 limit, and will run until 2010. Window products that qualify for the credit must have a highly efficient 0.30 U-factor (a measure of how well a window or door product prevents heat from escaping) and a 0.30 Solar Heat Gain Coefficient (a measure of how well a product blocks heat caused by sunlight).
When homeowners select a 3D MAX energy efficiency package, Milgard customizes the order in-house, taking care of the complex figuring of components typically left to the window dealer to work out. By choosing 3D MAX, homeowners can also save about 10% over ordering the same components separately.
"Milgard created our 3D™ and 3D MAX energy packages to appeal to homeowners and window dealers that wanted a simple way to purchase windows with a specified level of energy efficiency. Our 3D MAX package is often as much as 26% more energy efficient than ENERGY STAR® criteria," said Maureen Faccia, Marketing Director at Milgard. "Other window companies use more expensive means of meeting the requirements. Milgard's 3D MAX package technology qualifies for less."
Window upgrades for the home are one of the first considerations to improve a home's energy efficiency. Milgard's energy efficient windows improve energy performance, overall comfort and livability and even architectural consistency. Window upgrades also offer one of the best returns in home improvement. According to one study, homeowners in the Western United States can get an approximately 93 % return on their investment in window upgrades when reselling their home. Homeowners also save money on home heating and cooling costs over time, adding to the financial return of window upgrades.
Qualifying and receiving the energy tax credit is easy. When purchasing a qualifying Milgard window or door, homeowners must save the sales receipt and the NFRC/ENERGY STAR® label with their tax documents. Qualifying windows or doors must be installed between February 18, 2009 and December 31, 2010. Then, homeowners can claim the tax credit associated with the qualifying purchase on federal filings for the 2009 and/or 2010 tax year.
"We encourage anyone who is considering replacing windows for their home to visit milgard.com to find out more about saving money with energy efficient windows," adds Faccia. "We've gone to great lengths to provide clear and straightforward information on the tax credit, and make the process of buying windows and doors as easy as possible."