Nothing could be more welcoming and cozy than a country themed kitchen.
The country style focuses on making the room warm and friendly, while maintaining a kitchen that's practical.
This is why the classic farmhouse look has stood the test of time and there are plenty of modern takes on the country design.
Here are a few ideas on how you can create a country home feel in your kitchen:
When choosing the materials for the room try and keep everything as natural as possible. Hardwood flooring is a classic look for a country kitchen style; however a stone tiled floor contrasted with wooden cabinetry will really bring the room to life.
Alt=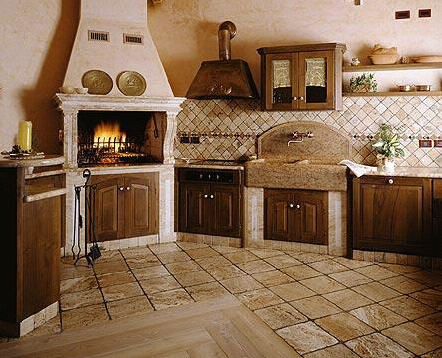 With kitchen cabinets and fittings, a painted finish is a great look especially if you use a pale color which allows the wood grain to show through.
Once again contrast is key, bold colored walls against your neutral cabinets will really bring out the fittings.
An island is a great feature for any kitchen but it fits in particularly well with the country style. As well as being a focal point of the room they are multifunctional, a kitchen island will provide space to prepare and cook food, while creating a perfect space for family and friends to dine and enjoy your welcoming country style room.
Kitchen islands also provide suitable storage space, while free standing shelves maintain the practical theme. Open shelving is efficient, as you can quickly grab whatever you need and it allows you to show off your pots, pans and crockery.
However, if tidiness is not your best attribute, then alternatively you could choose kitchen cabinets with doors.
These ideas should give you the foundations of bringing the country kitchen style to your hub of the home.