A fresh coat of paint can easily and affordably transform a space, and thanks to a new wave of design awareness among DIY decorators, there's no shortage of bold, statement-creating paint color trends from which to choose.
"Over the course of the past decade, consumers have shown a desire to bring new hues into their living spaces," says Debbie Zimmer, paint color and decorating expert for the Rohm and Haas Paint Quality Institute and member of the prestigious Color Marketing Group, an international organization that helps shape the latest color trends. "They're so much more color confident today, especially since they've had the opportunity to visualize color through examples on home improvement shows, magazines, and radio shows."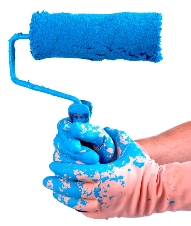 If you've collected a few of those design ideas yourself, take the next step with this tour of paint color trends and palettes identified by Zimmer and her fellow trend watchers.
Back to Nature.  Consumer interests in green building and earth-friendly living have found a literal outlet in natural tones reflecting the world outdoors. As a result, yellows and blues, leaf-like greens and organic browns all star on consumers' wish lists. Bedrooms, bathrooms and rooms including an accent wall are ideal destinations for these shade trends, and Zimmer suggests accenting such natural paint color schemes with rust or copper-like metallics.
Comfort Colors.  Stress-free shades that wrap a room in warmth continue to be popular, especially when it comes to kitchens and family rooms. To create a welcoming refuge from the rough-and-tumble world, choose paint colors that sound as delicious as they look, including pumpkin orange, cinnamon apple pie, cocoa brown, and biscuit and wheat neutrals.
Stark Contrast.  This palette pairs sophisticated black and white with such dramatic tones as deep plums and clean, clear reds. Whatever bold shade is in the mix, polished brass metallics are great complements to Stark Contrast paint color schemes, and mix to great effect in dining, living and powder rooms.
In addition to paint color trends, Zimmer recommends using texture to add interest and style to a room. One approach is incorporating different paint sheen levels to lend translucency and a glass-like quality to surfaces, including unexpected and dramatic applications on ceilings. And don't discount the power of metallics as highlights, undercoats and surface textures in any paint color scheme. From silver to brass, metallics are again going to be on the rise among paint color trends.