If you're like most Americans now is the time you might be thinking about the changes you'd most like to make most for the New Year. Whether it's losing weight, getting organized or making more money, your house can help you keep these New Year's Resolutions for your home.
Every New Year's Eve, Americans promise to lose weight and save more money, but most of us don't realize our homes could be doing this for us. With a few simple changes around the house, homeowners can expand their space, save money and make their home a healthier, better living environment.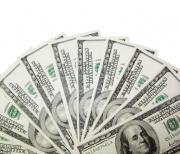 Here are a few tips for meeting your New Year's resolutions and getting your home in shape:
Make More Money. If you're thinking about making some home improvements this year but worried about the expense, you might want to give top priority to those that can make you money when it comes time to sell your house. For example, one source reports that even though the average deck addition costs $6,300, you'll see a return on that investment of 104%. Plus, fixing up that tired bathroom can deliver an 89% return if the house is sold within one year from the time the work is completed.
Even if your home improvement budget isn't up for these big projects, smaller ones can also pay big dividends. Replacing kitchen appliances with ones that meet the new Department of Environmental Protection's Energy Star rating can reduce utility expenses and help protect the environment. Even something as small as replacing 25% of the incandescent light bulbs in your home with compact fluorescents can reduce total electric lighting costs by an amazing 50%.
Stay on a Budget. The best way to keep your house from costing more next year to lower your energy usage. Even if your home is only three years old, you may not be up to standards when it comes to energy efficiency. Small fix ups like improving insulation, caulking around windows or sealing the gaps around outlets and light switches on exterior walls can dramatically reduce the cost to heat and cool your home.
For a list of hundreds of great energy saving ideas, check out the US Department of Energy's Energy Efficiency and Renewable Energy Network web site. Here you'll find great do-it-yourself energy saving tips for all areas of your home, as well as a shopping guide to help you choose the most efficient major appliances and a seasonal tip section that suggests the best improvement for each month of the year.
Lose Weight. If your house's New Year's resolution is to go on a diet, cutting the fat would mean decluttering your rooms. Crowded spaces are hard to work in, hard to clean and can take way too much of your daily energy better put to more productive projects.  
Get in Shape. Lack of maintenance is the #1 cause of deterioration in homes today. Even if you have little time for home care, small maintenance jobs done now can save thousands of dollars later.
Make a list of important maintenance jobs that need to be done each season. For example, in January it's too cold to work outside, so take this time to look over your plumbing system for leaks. More "inside jobs" for this time could include cleaning the dryer exhaust duct to prevent fires, or replacing the grease filter in your kitchen exhaust fan.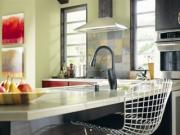 Eat Better. Since many Americans spend more waking hours in the kitchen than almost anywhere else in the house, fixing up your kitchen is a great way to make sure you'll "eat better" in the new year. But most kitchen improvements are expensive right?  Wrong! Cheap kitchen makeovers are possible and many are easy do-it-yourself projects. For starters, give your walls a face lift with new paint and a wallpaper border. Before putting the paintbrush away, freshen up your dark cabinets with a bright complimentary color and add new hardware. Replacing countertops or flooring, as well as upgrading your faucet, can also provide a quick and inexpensive face lift.
Get Organized. Soon it will be time to start organizing for last year's tax returns. Before that, take some time to organize the records for your home. Start by gathering last year's home improvement and maintenance expenses. Some of these expenses may be deductible, especially if you own rental property, or can reduce your tax burden when it comes time to sell.
If you made appliance purchases this year, find the receipts and staple them to the inside back cover of your owner's manual. This way you'll know where they are in the event a warranty claim becomes necessary.
If you're worried these New Year's Resolutions for your home might not last to the end of the month, don't set yourself up for failure. Plan your improvements in small stages, especially if you're doing them yourself. By breaking bigger jobs down into smaller parts, you'll feel a sense of accomplishment along the way and avoid becoming overwhelmed if your enthusiasm at the start of a job gets the best of you.