If first impressions count, your home's walls, floors and ceiling are the canvas for your personal expression of style and comfortable living. For most of us walking into a home for the first time, our first impression is the décor. What does your home say about you? What would you prefer it to say?
Decor projects can be low in difficulty but high in impact. Think of the dramatic results that can be achieved with something as simple as paint. These are like the bunny-hills of home improvement: ratcheting down the skill requirements so you can learn good form and build the confidence to tackle bigger adventures in and around your home.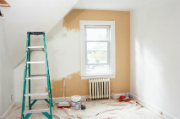 Maybe you know you want to redo a room, but aren't sure where to start, what to keep or junk, or what parts to tackle. You may have started with a pretty simple, livable room years ago, but then as furniture, pictures, and collectibles found their way into the space, it became the kind of living area of last resort it is now.
Wiping the decorating slate clean, so to speak, is usually the best way to tackle a room makeover. Begin with a checklist of what you have. Identify what you like most about the space, as well as the "keepers" among the room's surfaces, something like a hardwood floor or walls with great texture. This will help you start defining a palette.
Brush or roll on a new look
Painting should really rank up there as one of the great American pastimes. You don't have to be a rocket scientist or Michelangelo to paint a room. It's literally something you can do by yourself, with your spouse, even with your kids.
Most room makeover projects are attainable for do-it-yourselfers with novice to moderate skill levels. Credit goes in part to manufacturers who have become much more innovative with products that are easier to install and easier to maintain, such as installing a hot-looking, easy-care new floor by snapping together laminate boards or carpet tiles.
A few projects related to walls, floors and ceilings are best left to the pros. Hardwood floor sanding and refinishing is definitely one, given the value of hardwood floors and how easy it is to cause permanent damage to your asset, along with the fact that pros are able to apply the more durable commercial-grade finishes that aren't available to consumers. Vinyl flooring is also a tricky job where the unskilled may unwittingly damage the product and add costs to the job.
Decor projects are among the least expensive your home will need during your time living there. That's one of the things that makes them so much fun. For the cost of a can of paint you can add loads of color to your life. But if your newfound color confidence went a bit too far fuchsia, you can dial it back for another twenty bucks' worth of paint.