Trying to decide whether to do some home remodeling this year or leave your money in the bank? You can do both if you remodel with interior painting.  In fact, interior painting delivers one of the highest returns on investment when it comes to home remodeling.
"The cost of do-it-yourself interior painting is so low, it's almost like remodeling without touching your bank account," says Debbie Zimmer, spokesperson for the Paint Quality Institute.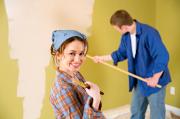 The key, of course, is investing some sweat equity.  A professional painter might charge up to $500 or more to paint a room.  But if you're willing to provide the labor, you can complete the job for a small fraction of that amount.
Looked at another way, do-it-yourself interior painting is a great way to "earn" money. Since painting a room is usually a two-day proposition, if a contractor-applied paint job costs $500 in your area, you're essentially paying yourself $250 a day to paint!
Absent the labor cost, do-it-yourself interior painting is downright thrifty. Your only outlay is for paint, application equipment like brushes and rollers, and some miscellaneous expenses for things like tape and a drop-cloth. Total cost? Less than $100 a room — and that's little more than pocket change in today's remodeling world.
Whether you've decided to do your own interior painting to save money, enjoy a high return on investment, or simply to have a hand in beautifying your home, here are some tips for a well-painted room.
Clean.  Before starting to paint, take the time to properly prepare the walls and other surfaces.  Clean them with a solution of detergent and water.  Next, surfaces should be rinsed and allowed to dry. 
Repair.  If there are any cracks or holes in the walls, this is the time to repair them with spackling compound, fiberglass tape or a good quality acrylic caulk.
Use Quality Tools.  Use high quality brushes and rollers – don't try to cut corners by going cheap, because you'll end up spending more in the end, either because cheap materials don't last as long, or because you'll end up with a poor application that requires extra coats or touch-ups.  High quality tools will help you apply the paint more evenly to get professional-looking results, even if it is your first time painting.   When applying latex paints, be sure to use brushes and rollers with synthetic bristles and covers. The brushes will maintain the proper stiffness and the rollers will maintain their shape even when exposed to a lot of water.
Use Quality Paint.  Invest in only top quality 100% acrylic latex interior paints – they're the do-it-yourselfer's best friend.  When you're putting time and effort into a paint job, you want that paint job to last.  That's where good paints really pay off.  Top quality 100% acrylic latex paints are extremely durable, plus they resist fading, so your paint job will look great for years to come.
So if you think you're up to the job, put yourself to work doing your own interior painting. You'll be rewarded not just with the money you save and a high return on your investment, but also with the satisfaction of a job well done!