Tired of hauling out your supply of sponges, buckets, brushes and degreasers every time you need to wash your car? Now there's a better way. The Hyde PivotPro Boat & Auto Water Wand has everything you need to do the job built right into it: extra reach, pivoting nozzle, soap dispenser, brush and buffing attachments. Being able to switch seamlessly from applying soap, to scrubbing the surface, to rinsing means you can do a much better job in less time with far less work. Just pick it up and start cleaning!
The PivotPro Boat & Auto Water Wand attaches directly to your garden hose and gives you a fast, easy and better way to clean your boat, car, trailer, truck or ATV. This 46-inch water wand allows you to wash the hood or roof, reach into the truck bed or clean under the carriage of your vehicle with ease. The patented pivoting nozzle allows you to change the direction of the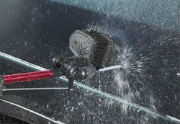 stream as you're working. Since the nozzle pivots, that means the tool does the work, not your body! No more bending, stretching or stooping to get over, under or around obstacles.
With this tool, you can forget having to deal with a bucket and sponge. The PivotPro has a 16-ounce dispenser for adding concentrated liquid soap, as well as a soap-to-water ratio adjustment that allows you to automate the amount of soap mixed into your stream. Just add liquid soap to the mixing reservoir, set your soap-to-water ratio, then point and shoot to wash and rinse your boat, car, truck bed, wheels or undercarriage.
The Boat & Auto PivotPro features a soft bristle brush with a bumper so it won't harm the finish of your vehicle. It locks in where you need it, and swings out of the way when you don't. The PivotPro is also available with interchangeable attachments designed specifically for vehicle cleaning. The Boat & Auto kit includes a microfiber pad for safe and effective cleaning and buffing, as well as a spindle brush for cleaning wheel wells.
So if you've been avoiding a tough cleaning job because the mere thought of all that work has you feeling defeated, you can grab the PivotPro and know that you've got everything you need to work faster and smarter all in one place. The Hyde PivotPro Boat & Auto Water Wand is available by itself or as a kit, and can be purchased now at hydestore.com. For more information, visit TheHydeWay.com.