If you celebrate Christmas, the annual outing to choose a tree is a favorite tradition. But the results can be a disappointment if your "perfect" tree withers, shrivels and sheds half its needles weeks before the holiday arrives. This year, go with a better plan: find the freshest tree available.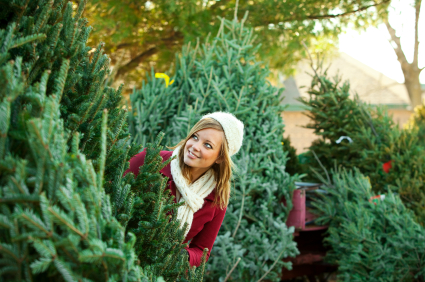 When you get to the tree lot, start by examining the color and condition of trees' needles. They should be shiny, green and able to bend without snapping. To test, give a branch a little tug, just to make sure a cascade of needles doesn't fall to the ground.
Also make shop for the size that'll work best in your home, measuring Christmas tree candidates for height as well as circumference. That way, you won't be paying for more tree than your ceiling allows, or smashing tree limbs on the way into the house and, once in place, against walls and furniture.
For best results when trimming your tannenbaum, shop for a tree species that has strong branches, like a Fraser or Noble fir. If possible, transport your chosen tree inside your car, and make a fresh cut once you get it home. From there, keep the stand filled with fresh water and you'll enjoy a lush, fragrant Christmas tree throughout the season.