Tom Kraeutler:Welcome to another addition of the Money Pit's top products podcast, coming to you from the 2015 Consumer Electronics Show in Las Vegas, Nevada. We've talked a lot about the
Chamberlain MyQ Garage
, the Universal Smartphone Garage Door Controller system that came out this past year by Chamberlain. Got a lot of great reviews on this product and now Chamberlain is out with a new product called
Notifi
that's going to help you add peace of mind to who's coming up to your front door especially when you're not home. With me to talk about that is Touleng Vang, he is a product manager with Chamberlain. Hi, Touleng.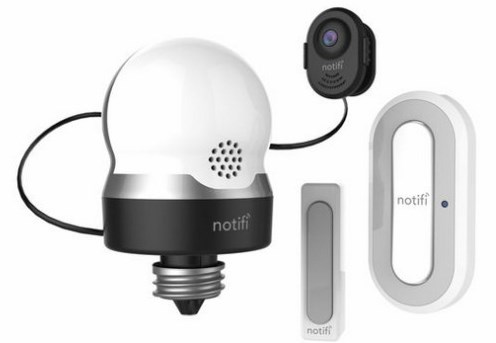 Touleng Vang:Hi.
Tom Kraeutler:Tell me about Notifi.
Touleng Vang:Notifi is an app-based product that allows you to monitor, control, or see who's coming and going on your front door or your front porch of your house. It's an LED light bulb, comes with a video as well as a door chime that enables you to basically control who's coming and going at your front door. The way it works is it uses your homes Wi-Fi network and basically it sends you a personal notification anytime someone pushes your doorbell. It will send you a personal notification, allows you to see who's at your front porch and you can have a two-way conversation, one-way video approach to it.
Tom Kraeutler:Does it require a power? How does the camera actually get its power?
Touleng Vang:The camera uses the LED light bulb and your homes Wi-Fi. Basically, the camera is using the LED light bulb.
Tom Kraeutler:It pulls power away from that. So the installation, therefore, is pretty easy.
Touleng Vang:The installation is less than 30 minutes.
Tom Kraeutler:That's fantastic. Where is this going to be available?
Touleng Vang:It's going to be available right around Q3 timeframe of 2/20/15.
Tom Kraeutler:Do you have an opening price point for it yet?
Touleng Vang:Right now, it's 199.
Tom Kraeutler:The product's called Notifi, N-O-T-I-F-I. Where can they get more information?
Touleng Vang:You can get more information if you go onto chamberlain.com and it'll give you everything that you need to know about Notifi, how to install it and so forth.
Tom Kraeutler:That's Touleng Vang from Chamberlain Group. Thanks Touleng.
Touleng Vang:Thank you.
Our Podcasts