Imagine a day when the basement can be an additional place of retreat and solitude from the busy world around you, and your family. The basement does not have to be that dark and unwelcoming place that is damp and cold. With today's amazing advancements in flooring and home decorating, that lower level can be your favorite retreat, complete with a new basement floor.
Being underground, basements are often damp, cold and can turn some flooring choices into a wrinkled, moldy, mess. You might think because of the dampness and coolness of the basement your choices in basement flooring are limited, but with the right subfloor and finishing flooring choices, you can design as big as your dreams or budget will allow!
For example, the following products have taken dampness into consideration while not sacrificing one bit on style or design. The basement flooring ideas range from hardwood to tile and everything in between.
Best basement floors start with a DRICORE Subfloor
If you have a basement or maybe a split level where the lower floor is below the grade, it may feel like you are constantly battling a damp space. But when it comes to your floor, there's an innovative sub-floor product called DRICORE that is an essential first step to a warm and comfortable floor.
DRICORE is a one-step engineered subfloor solution that is specifically designed for basements. It comes as 2 foot by 2-foot square tile, and goes down first, before the finished floor. This creates a raised moisture barrier between the cold, damp concrete and to protect, insulate and cushion your finished floors.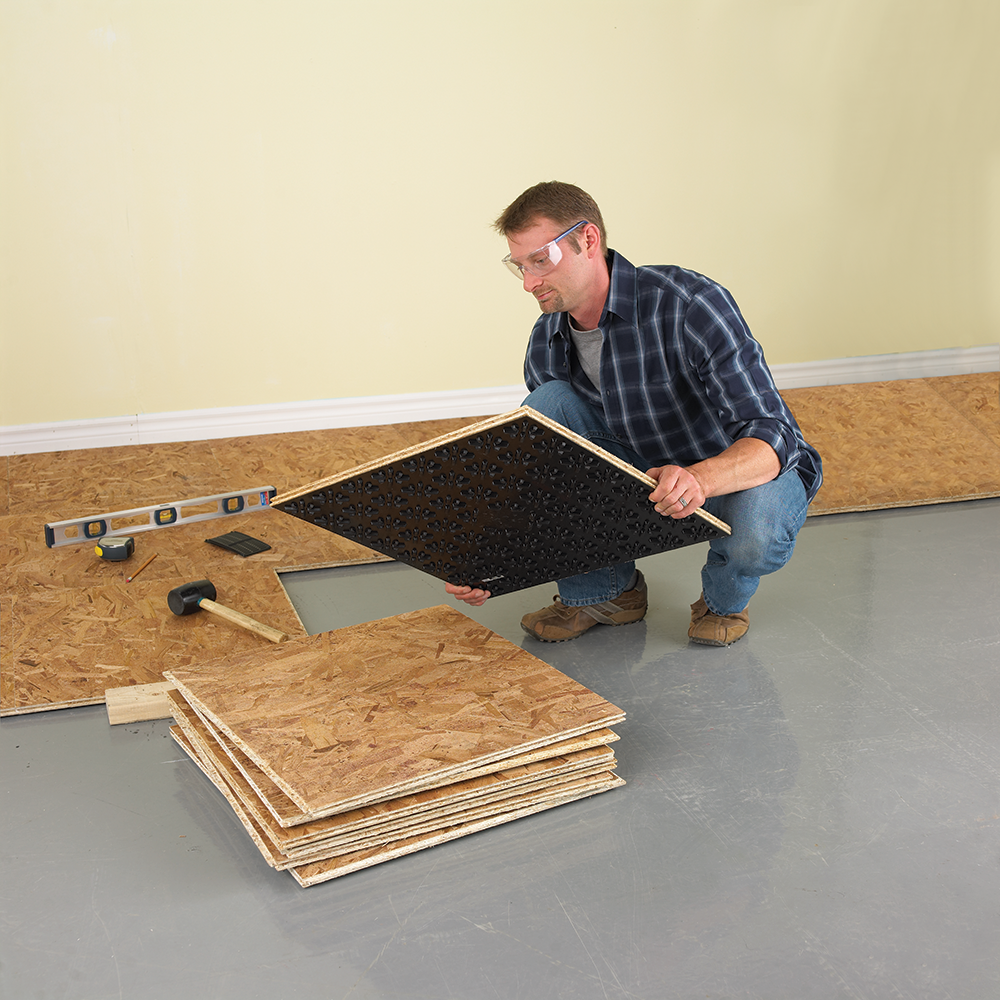 One of the challenges of installing a basement floor is that concrete continually releases moisture. DRICORE Subfloor panels are designed with air gap technology that creates an air gap between the floor and the concrete so the moisture in the concrete isn't trapped.
This helps protect against moisture that can lead to mold and mildew, as well as adds a layer of against the cold concrete to make floors feel warmer and softer to walk on. DRICORE is inexpensive, easy to install, and is available at Lowes, Home Depot and Menards.
Best types of flooring for a basement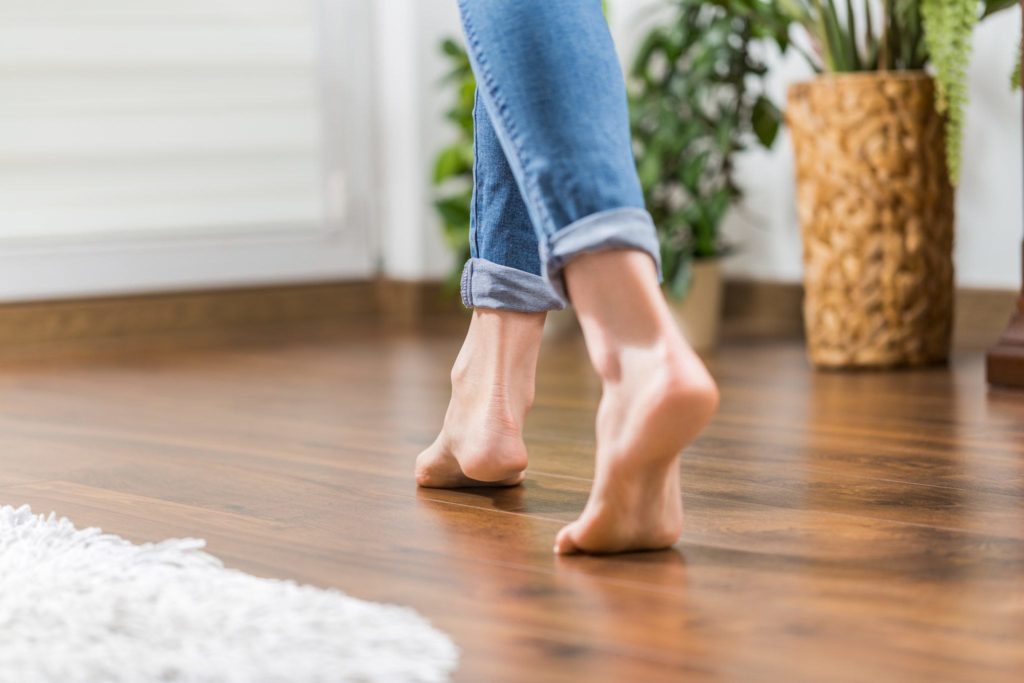 Luxury Tile – Luxury tile is a high fashion, high performance rigid tile that offers whatever look you desire for your basement floor. The tiles are typically 16″ x 16″ wide and a solid 5mm thick, with a wide range of patterns . Using adhesive and standard tools, these tiles are installed the same way as you would install any vinyl floor tile. Depending on the condition of your existing floor you can install them directly on top of concrete, sheet vinyl, or even over floors with radiant heat. So, to give your inner designer the freedom to mix and match, choose any of these beautifully coordinated tiles for a winning combination!
Laminate Floor – Laminate is easy-to-install and easy-to-maintain, and it's designed to replicate the natural color, grain and texture of real hardwood. Don't confuse laminate floor with the old-fashioned laminate countertops. While the process is similar, the durability is 20x greater. In fact, some laminate is so realistic, it's hard to tell it from the wood or stone that inspired its design. Laminate cant take a basement flood but it is very moisture resistant.
Engineered Vinyl Plank – Engineered vinyl plank flooring is both waterproof and worry-proof, which lets you bring the beauty of hardwood flooring to any room – without stressing over every spill. It also has a "wear layer" that provides exceptional scratch, stain and dent resistance – for those high-traffic areas – and some come with a 30-year warranty.
Engineered Hardwood – You would be right to think we had lost our minds to suggest hardwood flooring for the basement but now you can have it all. Engineered Hardwood Flooring is made of five layers of plywood with a top layer of actual laminated veneer of the wood you love. These engineered hardwoods come in planks and are installed with a tongue and groove. The planks simply "float" over your existing basement flooring as long as it is in good condition. In fact, the only prep work you need is to lay out a moisture barrier sheeting over your concrete floor. Engineered hardwoods are designed to withstand moisture and can be installed below grade without fear of the warping or buckling common to solid hardwood floors. Armstrong offers a beautiful engineered hardwood with planks in a variety of sizes, styles, and finishes under their Bruce Hardwood Floor line.
Epoxy Coating – This is a great option if you are really just looking to spruce up and finish your existing space without making a huge design commitment. It seals and finishes your existing basement floor and gives it a retro and industrial look with a durable coating. Rust-Oleum makes Epoxy Shield which is mixed in two parts and applied to the floor. It is available in neutral shades which you can enhance with decorative chips. This product is also great if your basement has concrete walls and you are looking to finish them with something other than paint.
Acid Staining Concrete – If you love the look of concrete but are not thrilled with the color gray, acid staining is the technique for you. This unique and affordable flooring option enhances the condition of your existing concrete floor by coloring and transforming the current look. The stains can be applied to your basement floor in a decorative way, creating patterns and details while drawing out the beauty that hides within your concrete slab. Gaye Goodman is an amazing concrete acid artist who has used this technique on hundreds of homes and businesses. Check out Gaye's tips and advice on how to bring this unusual effect into your home.
What about using carpet in a basement?
Carpet is a really, really, really bad idea in a basement! Aside from the leak, the normal basement dampness combined with dirt, jute carpet backing, or any other organic debris that finds its way to your basement provides a perfect Petri dish for mold growth.
If you have carpet now, my advice is to remove and toss the carpet — and quickly before the mold really starts to take over.
On our national radio program and podcast The Money Pit, we open each and every hour by inviting calls from "floor boards to shingles." If your question is about how to floor the rooms right under those roof shingles or floor boards, there are lots of fabulous flooring ideas for your attic flooring and basement flooring!