Architectural salvage is the ultimate in recycled building materials, allowing homeowners to bring the design and craftsmanship of yesteryear into today's homes through authentic fixtures, accents, and architectural elements, while adventuring into discoveries from the past.
As old builds make way for new and homes with historic pedigrees are transformed with interior updates, these architectural salvage specialists partner with demolition experts to rescue beautiful, often valuable materials and embellishments that will find new homes and new appreciation across the country or around the world.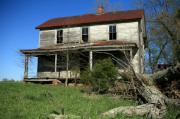 Architectural salvage centers deliver a surprising variety of recycled building treasures along with on-site experts ready to help guide your search and provide resources for restoration and conversion.
To make the most of your trip, be prepared with necessary room measurements, hardware to be matched, awareness of building codes, an eye for deteriorating finishes that may contain lead, and an understanding of costs and heavy-lifting logistics. That way, your discoveries will both literally and figuratively fit into the scene when you get home.
Tips to make the most of architectural salvage treasures:
Give such architectural salvaged items as hardwood flooring, brick, tile, moldings and cabinetry new life through reuse in contemporary spaces.
Bring the elegant lines of recycled building materials like vintage bathtubs and sinks into modern baths with updated plumbing, fixtures and finishes.
Integrate handcrafted built-ins into room designs to create focal points that are both functional and decorative.
Feature architectural salvage finds as the art pieces they are. Everything from gates and finials to signage and unusual windows can be displayed on walls or tabletops to add interest in a space.
Build or embellish recycled building materials like furnishings in new ways For example, a vintage panel or window can be attached to a base made of new materials to create an accent table.
Accessorize and illuminate a modern room with a rewired vintage light fixture.
Add whimsy to landscaping and outdoor rooms with popular architectural items like statues, ornaments and other architectural elements.
Architectural salvage
dealers combine modern green-building principles with a love for the architecture of recycled building materials. Spend some time searching these examples of our history and you may collect some amazing finds in the process!