The holidays are all about traditions – like those special family heirlooms that come out of the cabinet once a year to grace your table. But over time, metal heirlooms can tarnish and begin to lose their original shine.
Tarn-X Tarnish Remover, specifically formulated for a range of metals, removes tarnish quickly and easily, without rubbing and scrubbing, giving you more time to spend with your family this holiday season.
Tarn-X is specifically formulated for sterling silver, silver plate, platinum, copper, gold and diamonds. It removes tarnish quickly and easily. Just wipe and rinse – no scrubbing or elbow grease required. With Tarn-X, the process is simplified to save time, without sacrificing amazing results.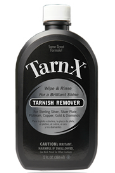 For best results, first remove any dirt or grime on your metal item with hot water and soap. Then rinse with cool water and wipe dry. Once dry, apply Tarn-X to tarnished areas with a cotton ball or soft cloth. Following the application, rinse immediately with cold water and hand dry with a soft cloth.
After using Tarn-X Tarnish Remover, try Tarn-X Silver Polish for even more shine on your silver items. The polish lengthens time between polishes, leaving a bright, even finish and protecting silver with an invisible shield that slows the formation of tarnish in the future.
Tarn-X Tarnish Remover retails for $5.50 and can be found at major grocery, drug, and home supply stores throughout the United States. To check product availability in your area, and for more information on the family of Tarn-X products, visit www.jelmar.com.