Cabinets with a sleek, clean design have been popular in Europe for years. Many versions of them have caught on in America, but most of the time, the price is out of range for a kitchen remodel budget – they can run near $20,000 for an average kitchen!
But with the recently introduced Roberto Fiore line of frameless cabinets from Cabinets To Go, modern style is within reach. The average kitchen cost is $2,500, leaving room in the renovation budget for countertops, flooring and more.
What makes frameless cabinets different? Traditional cabinets are easily identified by the spaces betw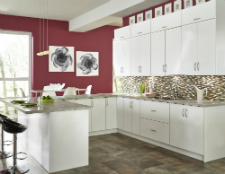 een the doors and drawers where the frame is visible. These cabinets consist of a plywood or particle board box held together and reinforced by a hardwood frame attached to the front.
Frameless cabinetry, on the other hand, is built without the hardwood face frame. Instead, they are built as a box with a back and ceiling that are as structurally sound as the sides and floor, which is not the case with face frame varieties. Because there is no hardwood frame to show off, a faceless cabinet door completely covers the box from view, and creates a seamless, contemporary appearance from door to door.
The Roberto Fiore line also has full overlay doors and is available in five colors: Cru (beige), Graf (gray), Metro (white), Noce (brown) and Tech (black). For more information, visit CabinetsToGo.com.