Mitsubishi Electric residential cooling and heating systems provide energy-efficient comfort to specific rooms or a whole house, all without ductwork. Mitsubishi cooling systems are 35 percent more energy-efficient than central A/C systems and 40 percent more energy-efficient than window units, translating into big savings for homeowners during the hottest days of summer. Many models are also Energy Star qualified.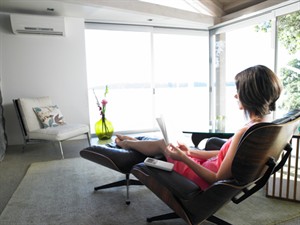 What makes Mitsubishi Electric cooling units so efficient is their compressor, which operates much like a car's cruise control. Unlike other cooling systems which continuously turn on and off to maintain optimum temperature, Mitsubishi Electric systems ramp up quickly to reach the desired temperature and then make small adjustments to keep that temperature steady. Each room includes individual temperature control, so you cool only the spaces you're using and save on overall energy costs. And because the system requires no ductwork, installation is fast and messy demolition is avoided.
Mitsubishi Electric cooling units are ideal for spaces that traditional A/C systems can't accommodate, such as a new addition to a home or rooms in an old home that has no ductwork. Featuring long-life allergen filters and a whisper-quiet sound level, Mitsubishi Electric cooling systems are available with a variety of easy-to-use control options, such as a portable central controller and remote monitoring via smartphone or tablet. Units also use green materials, including environmentally friendly refrigerant and recyclable parts. Design your own efficient cooling systems at www.mehvac.com.