The EPA has named indoor air pollution as one of the top 5 environmental risks to public health. The EPA also reports that indoor air can be up to 100 times more polluted than the air outside. And while you are offered many options like standard one-inch furnace filters, portable purifiers and ionizers, there's only one truly effective solution: an Aprilaire Whole-House Air Cleaner.
There are many types of air cleaners on the market today but none are as effective and clean your entire house as well as an Aprilaire Air Cleaning system. Aprilaire's Whole-Home Air Cleaners make your air as clean as possible by removing particulates from your air, allowing you to breathe healthier air important to those with allergies and asthma and for those who want the cleanest air possible for themselves and their family. An Aprilaire Air Cleaner installed by your heating and cooling contractor, can help rid your home of dust, dust mites, pet dander, mold spores, pollen, bacteria and viruses, smoke and more!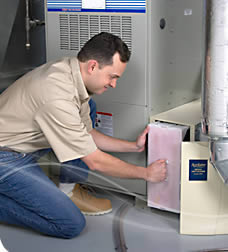 Whole-House Air Cleaners are installed as part of your home's central heating and cooling system completely out of your way and out-of-sight. There are several models of Aprilaire Whole-House Air Cleaners, designed to satisfy your family's specific needs. Your heating and cooling contractor can help you determine which is right for you.
Visit www.Aprilaire.com to find a dealer you.