Behr's Stain-Blocking Paint Keeps Ceilings in Tip Top Shape
As things improve with the economy and homeowners proceed with cautious optimism to make value-adding improvements to their current homes, repainting a ceiling can be both transformative and effective. By treating the ceiling as a fifth wall, homeowners can redefine a space and even expand it visually.
Some may think that painting a ceiling can be a tricky and time-consuming task, especially if you're dealing with major surface stains and imperfections. However, by using BEHR's paint and primer in one, Premium Plus Ultra® Interior Stain-Blocking Ceiling Paint [1], you'll save precious time as you transform the fifth wall of any space.
This new solution from BEHR features NanoGuard®technology and is specially formulated to block most household and water stains, a common homeowner predicament when it comes to interior painting projects. It dries to the touch in 30 minutes and can be recoated in one hour, helping to quickly arrive at a great finish. Once BEHR Premium Plus Ultra Ceiling Paint is completely dry, it has a flat sheen to minimize surface imperfections and it forms an extra-protective shell that resists moisture, stains and mildew. What's more, the flat sheen has a low reflective value that helps reduce roller marks and the appearance of irregularities.
The stain-blocking performance of BEHR Premium Plus Ultra Ceiling Paint goes beyond covering old eyesores to prevent new ones, working to resist the growth of mold and mildew on the painted surface. It also stands up to water, ink, rust, nicotine, wood or tannin bleed, and mildew stains. BEHR Premium Plus Ultra Ceiling Paint is ideal for uncoated and properly prepared, previously painted interior surfaces like drywall, acoustical tile, cured masonry, plaster, wallboard and other ceiling materials.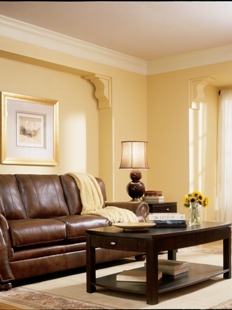 [2]
For the best results with a drywall ceiling, use a roller with a smooth or shorter nap, and if you're dealing with a textured surface, select a thick-nap roller and work in smaller, three-by-three-foot areas. Make the work easier and safer by keeping your feet on the ground?and away from an unsteady ladder?and using an extension pole to roll on a new shade. And if you're tackling ceilings and walls in one big project sweep, remember to start with the ceiling and work your way down for a clean-lined result.
When looking at color, basic white like BEHR's Ultra Pure White®creates an expansive feel, reflects light and coordinates well with other colors. Other popular BEHR shades to consider are Dried Plantain UL150-6 or Sand Motif UL160-8, which can make a large room feel cozier, and Coastal Beige UL160-11 or Ivory Lace UL160-12 to make a small room appear larger.
BEHR Premium Plus Ultra Stain-Blocking Ceiling Paint is available exclusively at The Home Depot [3]. The gallon size covers approximately 250-400 square feet depending on the porosity and the texture of the target surface.
Visit BEHR.com [4]to find more information on Premium Plus Ultra Ceiling Paint and get inspiration [5]for your project. BEHR has also introduced the ColorSmart by BEHRTMmobile application [6]that lets you can find the perfect colors for any home decorating project at the tap of a touch screen. Wherever you are, you can find BEHR paints on Twitter at twitter.com/behrpaint [7]and on Facebook at facebook.com/behrpaint [8].