Provides Soothing Shower With Refreshing Water Savings
Enjoy a soothing shower that nurtures both you and the environment with Moen's Nurture Eco-Performance Showerhead [1]. This three-setting showerhead delivers full-body coverage with a flow-optimized spray that uses up to 30 percent less water. Whether set on the "Relaxing" wide spray, "Invigorating" concentrated spray or "Refreshing" combination spray, the spiral-patterned spray face provides a high-performance shower experience that envelops the user.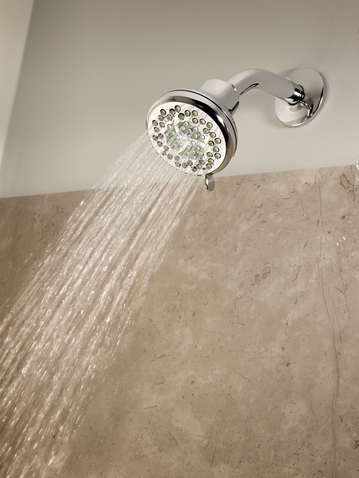 The Nurture Eco-Performance Showerhead beats the industry's standard water-saving flow rate of 2.5 gallons per minute (gpm) with a delivery of 1.75 gpm. It's available in fixed showerhead and handheld versions, and comes in either Chrome or the new Spot Resist Brushed Nickel finish which resists fingerprints and water spots. Look for this water-saving showerhead at Lowe's [2] or visit http://www.moen.com [3].
Links:
[1] http://www.moen.com/nurture/chrome-three-function-eco-performance-showerhead/_/R-CONSUMER:23333SRN
[2] http://www.lowes.com/
[3] http://www.moen.com
[4] http://www.youtube.com/watch?v=sIBxEWbapLw