Aprilaire Living Space Control Allows Custom Operation of Whole-Home Air Cleaner
Improved indoor air quality is just a touch away with Aprilaire's new living space control for its whole-home air cleaner. This convenience gives homeowners the visibility and control they seek when it comes to actively managing their indoor environments.
Historically, homeowners have purchased whole-home air cleaners [1]because they wanted the efficiency and convenience of cleaning all the air in the house, especially during peak allergy seasons of spring and fall. Unfortunately, these are also the times of year when outdoor temperatures are moderate and heating and cooling system tends to run very little, meaning there's a pretty good chance the air is not being cleaned. This is called passive air cleaning, as the homeowner has little control over the heating and cooling system's fan runtime. The new Aprilaire living space control [2]now allows the homeowner to actively clean the air in their home based on their needs.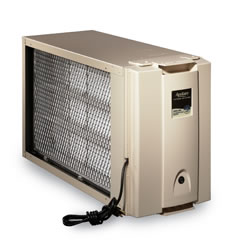 [3]
Extensive consumer research has revealed that homeowners want all the benefits that a whole-home air cleaner provides but really like the interaction that portable air cleaners allow. With the touch of a button, Aprilaire's new living space control has the option to control when the air is cleaned based on personal preference and event triggers. For example, you can choose constant cleaning, which would run the air cleaner continuously 24/7, or you can have the cleaner run for three hours and then automatically switch off. If you have allergies, the cleaner can be set to run for 30 minutes an hour.
Installed next to the thermostat or on the air cleaning unit, the new control also provides validation the air cleaner is working by indicating through a sequence of bars that rise when the blower on the heating and cooling system is energized. It also indicates when the filter needs to be replaced based on blower runtime. The air cleaner itself has also been redesigned and now features a series of blue LED lights that sequence when the fan is powered, again providing proof of product performance.
Research shows that most people buy portable air cleaners to help alleviate some sort of respiratory issue, but this cannot be accomplished with one portable air cleaner for an entire home. The Aprilaire whole-home air cleaner treats the air in the entire house four times per hour when any of the four cleaning options are selected. Homeowners actually get the relief they are looking for when using a whole-home unit.
Whole-home air cleaners permanently trap the airborne contaminants that can aggravate health and allergy and asthma symptoms. In a recent standard industry test, the Aprilaire 5000 achieved 99% efficiency against airborne particles. The Aprilaire Model 5000 captures and kills virtually all contaminants including those that most affect personal health viruses, bacteria, spores and allergens. The captured particles are permanently trapped and killed with absolutely no chance of being reintroduced into the air stream and back into the home. Visit www.Aprilaire.com [4] for more information on how you can conveniently improve and control indoor air quality.