Planning a New Year's Eve celebration [1]? Consider injecting your party with a little something special. Whether you're planning a quiet gathering of your closest friends, or an all-out wild bash; whether your party will be black-tie or blue jeans, there's an idea here to add panache to every at-home New Year's Eve soiree.
For the Low-Key New Year's Eve: A Compact Wine Cooler
Sure, you could pull your bottle of chardonnay out from between the dill pickles and last week's dried-out layer cake – but why, when you can upgrade to a compact wine cooler like this one [2] from Koolatron? Hey, this is a brand new year, so start it by treating yourself and your guests [3] to something new. T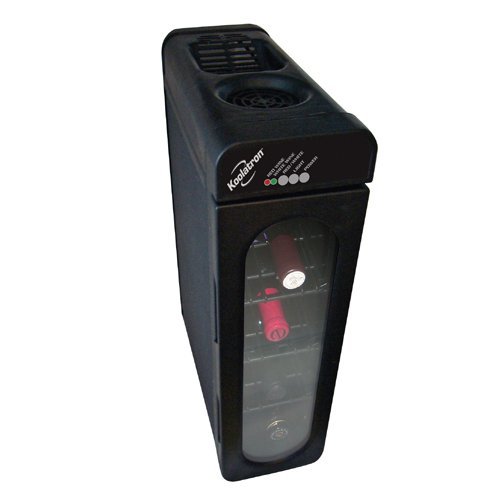 he Koolatron WC04 Compact Thermoelectric 4-Bottle Wine Cooler keeps up to four 25-ounce bottles of vino chilled and at the ready. It can be mounted vertically or horizontally (under your kitchen cabinets, for instance) or it works free-standing (like on the corner of your home bar [4]). It'll look attractive no matter where you put it, with its transparent door, removable contoured shelves and soft interior lights. And retailing for around $130, it's a wine enthusiast's upgrade that'll cost you less than your best bottle of bubbly.
For the Class-Act Bash: A Champagne Fountain
Wow your guests for that midnight toast with your very own light-up champagne fountain [5]! You can make your dining room table look like the ballroom at The Plaza for around $30 with a Nostalgia LPF-210 Lighted 1-Gallon 3-Tiered Party Fountain. This dramatic champagne dispenser pumps champagne from the bottom bowl to the top, where it cascades over to be collected in the bottom bowl again. The built-in lighting changes automatically to provide a dazzling array of colors. It even comes with eight coordinating cups.
For the Party to End All Parties: Disco Ball Lighting
One minute your family room [6] looks like any other family room – the next, it's a happenin' night spot! The transition is easy and affordable with disco ball lighting for around $20.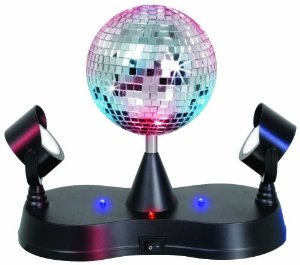 The model shown here [7] includes a rotating mirror ball and two colored LED spotlights. If that's not enough, it's kicked up a notch with four powerful LEDs mounted onto the base. Big impact for very little money. Keep the party spinning all night long this New Year's Eve. (And on a ho-hum night in the middle of a work week, whip it out and dance your stresses away. Go ahead, nobody's looking.)
With the addition of a splashy new gadget to your New Year's Eve celebration, you can have the coolest (or the hottest) party in the neighborhood. Pick your pace and party!