Avoid dangerous fireworks accidents with these tips
If you're going to enjoy a celebration this summer, it's important to follow a few fireworks safety tips. Summer means picnics, barbecues, parades and fireworks displays, especially around the 4th of July. Summer also means an increase in injuries from backyard grills, bonfires and fireworks.
Even before lighting a single match, it's critical to make sure you're using fireworks safely. In 2005, about 10,800 people were treated in emergency rooms for fireworks-related injuries. Nearly half of then were under age 15.
In fact, using fireworks safely is paramount when children are involved. Children between the ages of 10 and 14 were at three times the risk of fireworks injuries than the general population.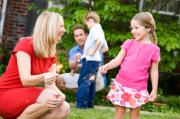 About a third of the injuries were from small firecrackers, 21 percent from bottle rockets and 20 percent from sparklers. In 2004, fireworks caused $21 million in direct property damage.
The National Safety Council advises that the best way to practice fireworks safety is to watch a public fireworks display conducted by professionals. However, if fireworks are legal where you live and you decide to use them, be sure you know you are using fireworks safely:
Use outdoors only.
Obey local fireworks safety laws. If fireworks are not legal where you live, do not use them!
Always have both a garden hose and a bucket nearby.
Only use fireworks safely as they are intended, don't try to change or combine them.
Light only one firework at a time.
Never relight a "dud" firework. Wait 15 to 20 minutes and then soak it in water.
Dispose of fireworks properly by soaking in water, then disposing in trash.
Never shoot fireworks in metal or glass containers.
The shooter should always wear eye protection and never have any part of the body over the firework.
Use fireworks safely by using common sense. Spectators should keep a safe distance.
Shooter should avoid drinking alcohol and wear safety glasses.
Only kids over age 12 should handle sparklers of any type.
Never use homemade fireworks or illegal explosives.
For more fireworks safety tips, visit www.fireworksafety.com [1]