APC Back-UPS ES 750G protects computer and peripherals with battery backup
Keep your home office running efficiently and provide both battery backup and surge protection using the APC Back-UPS ES 750G [1]. Via a compact industrial design, this office helper reduces everyday energy consumption by automatically shutting down power supplied to printers, speakers and other peripherals when your computer is in sleep mode, tallying up a combined annual average energy savings of $40 over competitors' units.
Ten outlets provide surge protection for your home office systems, with five including battery backup. The APC Back-UPS ES 750G also keeps your hardware going for up to 70 minutes during a power outage, depending on load, and the associated PowerChute Personal Edition software gracefully powers the system down in the event of an extended outage.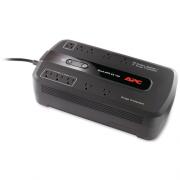 The unit's coax and telephone or Ethernet protection ensure that surges and spikes don't travel through data lines, and its green approach extends to construction that uses less copper and other raw materials in compliance with the Restriction of Hazardous Substances Directive (RoHS) for environmental friendliness at the end of its life.
Shop for the APC Back-UPS ES 750G at better home and office retailers, and add valuable surge protection and battery backup to your home office suite.