KILZ Clean Start Primer provides VOC-free base for a successful finish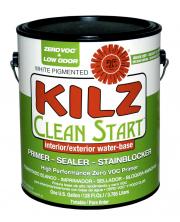 Prepare a room for a beautiful new look while preserving home air quality by using KILZ Clean Start Primer, a new formulation that primes, seals and blocks stains for a successful finish. You'll get great performance and preserve your home's air quality as you prepare interior surfaces for a new coat of paint, a step that's especially important if your makeover plans include deep, vivid colors.
KILZ Clean Start's zero-VOC, low-odor formula benefits those who are more sensitive to airborne pollutants, and allows painted areas to be occupied sooner than with other primer products. It's mildew-resistant and made for both interior and exterior applications, and cleans up easily with soap and water.
For primer that preserves home air quality, shop for KILZ Clean Start Primer at most home centers and hardware stores.