GE Hybrid Electric Water Heater uses half the energy of standard water heaters
Efficient hot water heating is now possible thanks to GE's new hybrid solution. As the Department of Energy unveils new Energy Star standards for residential water heaters [1], GE presents the first super-efficient solution with its Hybrid Electric Water Heater.
Keeping showers and baths warm and appliances running on schedule, the GE Hybrid Electric Water Heater provides the same hot water you're accustomed to but requires only about half the energy to produce it. Hybrid technology makes the big, green difference here: it absorbs heat in ambient air and transfers it to the water in the heater, a process requiring much less energy than that of a standard electric water heater and providing far more efficiency. When all's said and done, this smart appliance will save approximately 2500 kWh and $250 in energy costs per year, and local, state and federal tax credits and rebates can put even more money in your pocket.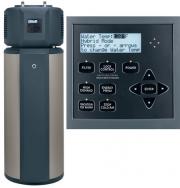 The efficient GE Hybrid Electric Water Heater features a user-friendly electronic control system, offering as much or as little control of operating modes as the user prefers. You can set the thermostat and forget it, or just as easily change the desired water temperature to maximize energy benefits. Easy installation also makes the GE Hybrid Electric Water Heater a great fit for upgrades or new construction, and it uses the existing water and electrical connections and same footprint as a traditional tank water heater. Watch for this efficient hot water heater to hit the market in fall 2009.