Your "to-do" list for staying safe in a storm
If you live in a hurricane-prone zone, here are ten hurricane protection tips to help you stay safe and prevent hurricane damage.
Secure Windows: If you live along the coast, homemade plywood [1] or professionally built shutters are a must when storms are imminent. Buy ½ inch plywood stamped CDX and cut sheets to fit the outside of each window. Pre-drill 1/8th inch holes every 12 inches and secure to windows with screws. To minimize cosmetic damage, mark where each shutter goes. Next time, you'll be able to use the same screw holes and have fewer repairs to fix after the storm passes.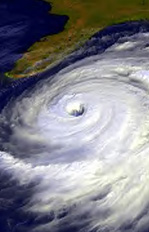 Install Hurricane Tie Downs: Roofs often go first in severe storms. Simple metal tie-down straps can keep roof rafters tied to the top wall of the house and prevents uplift during a hurricane's high winds. Straps can also secure walls to floors and keep floors tied tight to foundations. While this improvement takes some specialized skills, it's simple and inexpensive to accomplish, even without professional help.
Brace or Reinforce Garage Doors: More homes are "blown up" in hurricanes than "blown down." The reason? Weak garage doors blow into the house during a storm. When this happens, wind pressure fills the house with air and causes severe damage. For better protection, invest in a sturdy garage door or brace the one you have. For a quick reinforcement, secure two 2x4's across the inside of the door by attaching them to the side jambs of the garage door opening in the exterior wall.
Flood Proof Basements: Basements and crawlspaces flood when the volume of water in the soil builds to the point where walls can no longer hold it back. To avoid this, act now to remove obstructions from gutters, extend downspouts [2] and eliminate low lying areas of soil, which allow water to run back into foundations. By keeping water away from the foundation, flooding can be minimized or avoided completely. To be extra cautious, be sure to remove important personal property from all below grade spaces in your home and check sump pump [3] operation by filling the sump with a garden hose. The pump should come on before the sump overflows.
Trim Trees: Survey your yard for weak tree branches that lie within crashing distance of your home and trim these away before the hurricane. Also, you can avoid uprooting of larger trees by strategically removing branches to allow high winds to flow through.
Pick Up Projectiles: Every item left outside your home during a hurricane can become a dangerous projectile when fueled by high winds. Remove all outside furniture, garbage cans, toys, flowerpots or any other piece of personal property you can move.
Avoid Losing Power: Power outages are one of the primary hurricane damages. Prepare now for when the lights go out by buying a portable or standby generator and, for portables, enough fuel to run it for several days. If local stores are sold out, try Electric Generators Direct [4]. They offer a wide range of products and delivery can be accomplished in just a few days.
Inventory and Document House Contents: An accurate inventory of your home's contents is a critical first step to getting back on your feet after a hurricane. An easy way to do this is to videotape each room of your home, making sure to open every drawer and closet.
Store Records Safely: It's important to store the inventory and other financial and legal documents safely so the records can't be destroyed in the very disaster you're trying to prepare for. If possible, keep important records off-site in a safe deposit box, or at least in a fire-proof box.
Purchase Flood Insurance: According to the American Red Cross, even a Category 4 storm can trigger storm surges 13 - 18 feet above normal, making flooding a real risk. Unfortunately, though, protection for flood damage [5] is not covered by homeowners insurance policies. Therefore, the best way to protect your home in a hurricane and prevent the financial sting of hurricane damage is to purchase flood insurance. Flood insurance is available through a government backed Flood Insurance Program [6], but it's not cheap, has a 30 day waiting period and minimal coverage. Anything you can do now to minimize potential damage to your property before the storm hits is the best investment you can make.