Put your mind at ease for holiday home safety with the Schlage Touchscreen Deadbolt [1]. Schlage's strongest lock to date, it comes fully loaded with convenient security features so you never have to worry about misplacing, losing or forgetting your house keys.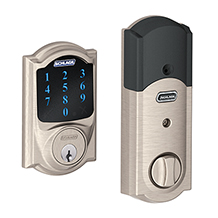 The Touchscreen Deadbolt is the only Z-wave home-automation-compatible lock to feature a built-in alarm system, providing warning alerts to homeowners prior to the home being breached. It holds up to 30 different codes that you can easily set and change yourself, allowing all family members to have their own codes to use when arriving home from work, school or vacation. Other features include lock-and-leave functionality, a fingerprint-resistant touchscreen that prevents wear and detection of access code numbers, a slim exterior plate that accommodates storm doors, and an anti-pick shield to prevent tampering.
The Schlage Touchscreen Deadbolt is available through the Amazon Home Automation Store, Build.com, and at select Home Depot and Lowes stores nationwide as well as online. Find out more at www.Schlage.com [2].