If you've ever been away from home and wondered if you left the garage door open, or wanted to make sure your kids got home safely with it closed behind them, stop the worry with Chamberlain MyQ Garage.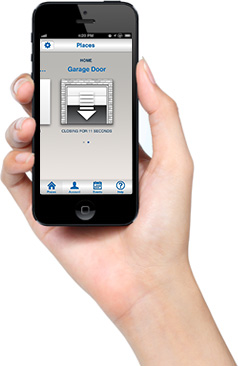 MyQ Garage gives you the ability to use a smartphone to connect to your garage door from anywhere. By installing MyQ Garage with your existing garage door opener and downloading the Chamberlain MyQ Home Control App, you'll have complete control and peace of mind, wherever you are. It also provides a warning for anyone inside the garage prior to the door closing, and integrates with the door's safety sensors to prevent closure when something in its path. MyQ Garage works with a majority of garage door openers manufactured after 1993, and its Wi-Fi hub installs in your garage with no wiring and connects to your home's wireless router. The door sensor mounts to your garage door, and the MyQ Home Control App can be downloaded free from the Apple App Store and Google Play. For homeowners replacing broken or outdated garage door openers, Chamberlain also offers smartphone connectivity built directly into their line of garage door openers enabled with MyQ technology.
MyQ Garage will be available at Amazon, Apple Stores, The Home Depot and select Best Buy stores starting November 1. Find out how to stay connected to garage door operation at www.Chamberlain.com/MyQGarage [1].