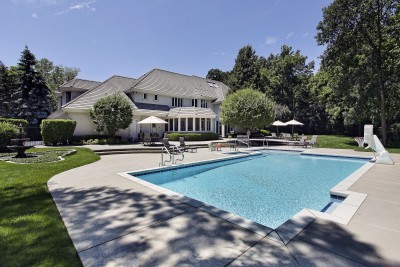 Want to heat your swimming pool on the cheap? Make the most of the summer sun. Even if you already use the sun to warm up your outdoor pool, the following adjustments can help you extend swim season by up to three weeks.
Harness daylight: To soak up maximum heat during the day, your pool should be uncovered and in full sun between 9 a.m. and 4 p.m.
Put your pool cover to work: Using a pool cover every night will help hold in solar heat absorbed by pool water during the day, increasing your pool's average temperature by four to five degrees.
Trim trees: If nearby trees interfere with sun exposure, trim them back. An arborist can help you with more intensive tree-pruning projects.
Add solar technology: For even more focused use of solar heat, add intentional technology to your pool. You can install an array of solar pool-heating collectors connected to a thermal heating system, or try a solar electric-assisted heat pump pool heater, which is powered by a more discreet hybrid panel array.
With strategic use of the summer sun, you'll increase enjoyment of your swimming pool while saving valuable heating dollars.