Learn how to pest-proof your home from termites, carpenter bees and carpenter ants with expert tips from Tom Kraeutler and Greg Baumann.
Episode ID:
bfd63351-fbb0-4131-8af6-9af40ed83c55
TOM KRAEUTLER: Welcome to The Money Pit Pest Prevention Podcast presented by Orkin [1]. I'm Tom Kraeutler. Well, as winter fades and the spring sunshine starts to warm, many home construction projects begin. But it is also the time that many home destruction starts since now is when termites begin to swarm [2], especially in the Southeast United States. When temperatures are consistently above freezing, termites will swarm inside homes before they move outdoors to search for food and water.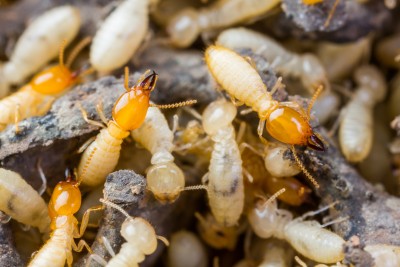 But termites aren't the only pest that can cause damage to your home because as it gets warmer, wood-destroying insects like carpenter ants, carpenter bees, wood destroying beetles and the like will also strap on their tool belts and get to work tearing your house apart. There are ways, though, to keep your house off of the menu. Greg Baumann joins me now. He is the Vice-President of Training and Technical Services for Orkin, with tips on how to protect your home from these wood destroying insects. Greg, welcome to the program. [00:01:00]
GREG BAUMANN: Thank you, Tom. It's great to be here.
TOM KRAEUTLER: Well, we are going to have a lot to cover in this episode. Coming up, you are going to find out when termites are most likely to be active and potentially chewing away at your house. We are also going to talk about which menacing bee is large and aggressive, but has a little secret in that it just can't sting. And we are going to talk about the difference between termites and ants that both destroy wood, but need very different approaches to keeping them under control.
So Greg, let's start by talking about termites. Now I think—one of the ways I know spring is upon is when I start to see these swarms. And of course, I've got the practiced eye. I'll spot them outside before many other folks will notice them, but I tell you what, when it happens inside your house it is incredibly noticeable and it is also somewhat alarming. Let's talk about that. [00:01:48]
GREG BAUMANN: Oh, absolutely. When subterranean termites swarm inside your house, these are really—they look like flies when they are in the air, but they are very poor fliers. They look sloppy. They are jerky. But there could be hundreds of them. A lot of times they are going to be emerging from underneath a window, for example. A sign of a swarm being all of these insects is a sign that there is a really healthy colony nearby. These are winged reproductives being sent out to start new colonies. It happens every spring. It is almost a rite of spring.
TOM KRAEUTLER: Let's talk about the life and times of the termite. Many folks think that they live in your house, but typically they are going to live in the soil around your house, right? They are just going to come in to feed and look for wood and look for moisture? [00:02:33]
GREG BAUMANN: Most of the pest termites that we have in this country are found in the soil. They are called subterranean termites. They are naturally found there. But if there is an adequate moisture source, they never have to go back to the soil to get into that moist, warm environment.
TOM KRAEUTLER: So, for example, if you have maybe a slow leak that maybe is not noticeable enough for you to know that you have a problem, maybe it is just a small drip inside the wall, that could keep the termites quite healthy without them having to go back to the soil for water.
GREG BAUMANN: Well believe it or not, termites are extremely delicate. They have very soft bodies; they need high moisture, high humidity and warmth. And if a house has a leak in the wall as you mentioned or, believe it or not, if there is just condensation on a line where you are getting dripping, it can allow the termites to survive quite nicely without every having to go back to the soil.
TOM KRAEUTLER: So obviously, making sure that your plumbing system is in good shape [3] so that you don't have the moisture is important in terms of trying to keep termites out of your house. Other things that you should do—I would imagine that many folks, for example, have firewood piled against the outside or have cardboard stacked in the garage. This could be termite food and you are really feeding the red meat to the lions, so to speak, aren't you?
GREG BAUMANN: Well that's exactly right. You know, in nature we call them "nature's recyclers." They take the dead wood and convert it back into soil. But that is not the kind of thing we want inside our house. We pretty much—I believe you coined the term at one time; these are going to be the wrecking crew of homes.
TOM KRAEUTLER: [Chuckles] Well that's right. That's kind of how I see them. Twenty years as a professional home inspector, finding termites—we used to say there are three kinds of homes out there, the homes that have termites, homes that had termites, and homes that will have termites.
GREG BAUMANN: That is probably true in many areas of the country for sure. [00:04:11]
TOM KRAEUTLER: So let's talk about how termites actually kind of get into the house so folks understand this. They live in the soil, they come into the house to feed, and they construct some very interesting architecture to actually do that.
GREG BAUMANN: Absolutely. The termites are not going to really seek out your house. They view it as just another type of wood food source. So it could be a dead tree in the yard or it could be your house. When they get into the house, that's the problem. If there are cracks in the foundation, termites certainly can get in there, but they don't walk out in the open very much because they are so delicate. Typically the subterranean termites will construct mud tubes. They look like little straws but they are made out of mud to provide that shelter for them to get into the wood of your house. So you want to look for any signs of these mud tubes or what appear to be straws going up the side of your house. [00:05:03]
TOM KRAEUTLER: Yes, and also you should have a pro in. Really, this is not something that you can fight on your own. If you happen to spot a swarm, you know you've got a problem. But termites, I can tell you, are very difficult to find sometimes having found them many, many times over the years. Sometimes you don't get something as obvious as the mud tube coming up the side of the wall.
I remember, for example, working on homes that were slab on grade and we would find these tunnels inside the wallboard itself. They would only eat the paper. They wouldn't eat the paint and they wouldn't eat the plaster part of the wallboard. They'd only eat the paper so it was almost invisible from the outside. We used to find them by putting a strong light cast across the wall sideways and you could see the outline, the shape of the tunnel. So they are very difficult to spot.
Treating them, however, is pretty straightforward. Because they generally go back to the soil, treating the soil is the way to kind of block them from coming back again, correct?
GREG BAUMANN: Well as with many pests, you want to create a defensive zone [4]. So treating the soil either using a liquid treatment or a baiting system, or even treating the wood sometimes using borates is another way of protecting the structure itself. But yes, you don't want to wait until they get in. Probably the best thing to do is look for things that we call conducive conditions and this would be puddling water, poorly drained gutters, firewood piled against the house, and any earth-wood contact. That is really a key one. Remember, National Pest Management Association tells us that termites do over $5 billion in damage to structures every year in just the United States. [00:06:43]
TOM KRAEUTLER: We're talking to Greg Baumann. He's the Vice-President of Training and Technical Services for Orkin, about wood-destroying pests including termites, carpenter bees, carpenter ants and wood-destroying beetles.
Greg, we talked about termites. Let's talk a little bit about beetles. A little similar to termites in the sense that they are destroying the wood as well, but the beetles tend more to live inside the wood than outside, correct?
GREG BAUMANN: Yes, the beetles live inside the wood. You'll actually see emergence holes so the eggs are laid on the wood itself and the larvae tunnel through the wood, consume the wood, and then emerge. So it almost looks like a shotgun, where somebody took a shotgun and little pellets of wood are missing.
Also, there is a type of termite that does a similar type of damage, called the drywood termite, they emerge as well. So, beetles and drywood termites are two types of insect pests that infest wood but do not have to go back to the soil. They are not subterranean.
TOM KRAEUTLER: Now we have seen in my part of the country, the Northeast, powder post beetles do massive amounts of damage. And you are right; it looks like a scattered blast when you see the wood. But sometimes you see powder post beetle infestations that are really old that really stopped and for whatever reason didn't continue. One of the tricks that I learned over the years as a home inspector is to look for the powder of the powder post beetle on the outside of the hole, kind of like a donut around the outside because that would indicate that it is an active versus an inactive infestation. Is that correct? [00:08:12]
GREG BAUMANN: That's correct. There are a couple things we look for as professionals. We are specially trained in this and we look at the powder. We call it the frass. But it is not just the powder presence, but the color of it because wood oxidizes, gets darker with age. And we also look inside the hole. If it is dark inside the hole, it's a bit older. If it is freshly cut wood color, it is probably more recent.
TOM KRAEUTLER: It's important to know that these are the types of things that a professional is trained to observe, but it is not something the average consumer could do on their own. With the wood boring beetles, what's the treatment protocol for that? How do we make sure that they're gone?
GREG BAUMANN: Well a couple things that could be done, depending on the geography and also depending on the needs of the customer. One would be—there could be fumigation or a tenting of the structure itself in very serious infestations. But more often than not, it is going to be a liquid application on the surface which will penetrate into the wood and control the beetles and keep that wood from getting re-infested for a period of time.
TOM KRAEUTLER: We are talking to Greg Bauman. He is the Vice-President of Training and Technical Services for Orkin, where pest control is down to a science. Greg, let's talk now about carpenter bees [5]. These always surprise me because they are big, they're aggressive, a lot of folks would call them bumblebees when they see them flying around. They eat wood, but there is one thing they don't do, correct?
GREG BAUMANN: They don't sting. The males don't sting, that's right. In fact I'm going to tell you a little secret, Tom, believe it or not, anything that stings us—now, not bite, like a mosquito, but stings us, is going to have to be a female because those are modified egg depositors and males don't have egg depositors.
TOM KRAEUTLER: How about that?
GREG BAUMANN: So no males will sting you. Certain male insects can bite you. Female mosquitoes have to feed in order to lay their eggs, for example.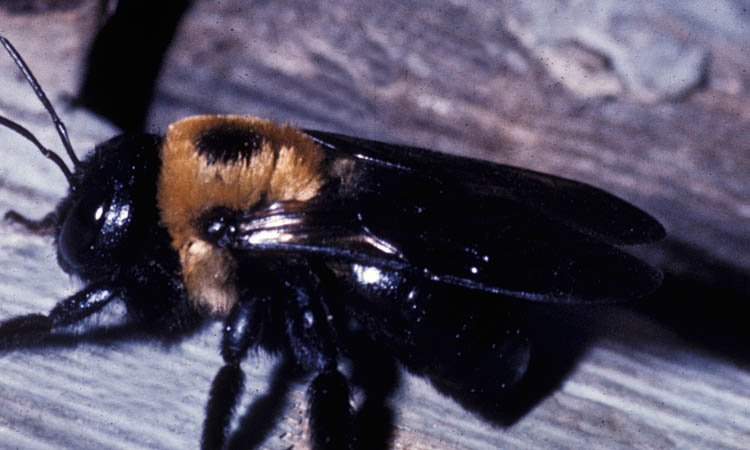 TOM KRAEUTLER: Now carpenter bees we frequently see eating the trim around the outside of the house. One of the common areas would be like fascia, for example, underneath gutters. Damp, moist, perfect wood for a carpenter bee to infest. And they have an interesting infestation pattern in that you can stand near these guys and actually hear them work. You can hear them chew the wood and sometimes if they are really industrious, you can see the wood dust, the sawdust, actually falling out the hole beneath them, right?
GREG BAUMANN: That's exactly right. It sounds like a loud bee, actually, bzzzz, bzzzz, as they are chewing into the wood. Now this is going to be a female that is chewing into the wood to lay eggs. People say, "I have pressure treated lumber. I do not understand. Maybe my pressure treated lumber isn't working." Well here is the key. Carpenter bees don't eat wood, they just hollow it out. Therefore, it doesn't matter if it is pressure treated or not. They are still going to hollow out the wood, lay their eggs, put some pollen in, wall it off, lay an egg, put some pollen in. And that is their gallery. And so you are going to see these little holes and that shows that there is a carpenter bee infestation [6]. [00:11:03]
TOM KRAEUTLER: And how do we treat for carpenter bees? I know they tend to come back to the same holes every year, too.
GREG BAUMANN: Yes, the daughters as they call it, the next generation, they like to come back nearby. Sometimes replacing the wood, but probably the most effective way is a dust treatment of the gallery itself to get rid of it and then seal the hole and repaint.
TOM KRAEUTLER: And finally, let's talk about carpenter ants. I always kid that these are the insects with the tool belts on because it kind of looks that way when you see them up close. They can do quite a bit of damage. We have seen them in trees and I've seen them kill entire large trees. If they get into a roof rafter, if they get into a floor joist, sometimes a girder, they could really weaken the structure of your home.
GREG BAUMANN: There is no question about it. Carpenter ants [7] don't eat wood, they just hollow it out, so they live in the wood itself. They typically are going to have smoothish type galleries. You are going to find that there is sawdust that is kicked out from their trash holes, essentially. And it looks like a carpenter was there. It looks like real sawdust and the only way you can tell the difference is that little pile might have insect parts in it.
TOM KRAEUTLER: Now how do we control carpenter ant infestations?
GREG BAUMANN: What you want to do is do a thorough inspection to find out where they are getting in. That is probably the most important thing to control carpenter ants. Once you find the source, you want to treat that source. And the source might not even be in the house itself. That might just be a satellite nest or a secondary nest. Your main nest could be out in the yard. You just want to, again, create that fortress around your house by treating it. [00:12:31]
TOM KRAEUTLER: Now before you can treat for an insect problem, you've got to know what you have. Flying ants and termites look very similar, especially when they are swarming and flying around. There is a way to tell the different, though, right Greg? To most people, they look at the bodies and termites appear to have just a head and body, so to speak. I know that technically, they're an insect, so they have three, but it's not really that obvious. But an ant has three distinct sections to its body, correct?
GREG BAUMANN: That is correct. The ants almost look like they have a pinched waist. And consumers today are really fascinated with insects, especially this younger generation of students that are all being taught about insects in school. And they want to become junior scientists and we're thrilled with that idea. Here are a couple other tips. Ants are going to have elbowed antennae. Termites will have straight antennae. A termite is going to have four wings. Ant will have four wings as well, but all four wings of the termite will be the same length whereas the ant will have two large wings and two small wings. Those are some good tips for telling the difference.
TOM KRAEUTLER: He's a guy who knows his bugs. Greg Baumann, Vice President of Training and Technical Services for Orkin. Thanks so much for being a part of the Money Pit Pest Prevention Podcast.
GREG BAUMANN: Thank you.
TOM KRAEUTLER: And if you'd like to learn more about how to identify and prevent pest problems in your home, visit Orkin.com. The Orkin.com site is full of useful information to help identify and eliminate insect problems in and around your house, including a pest library where you'll be able to look up any pest you come across, as well as a way to locate an Orkin Pest Control Pro to help eliminate those pests. It's all online at Orkin.com. Orkin—Pest Control Down to a Science. I'm Tom Kraeutler.