Learn how to pest-proof your home from lady bugs, crickets, fruit flies and stored product pests with expert tips from Tom Kraeutler and Greg Baumann.
Episode ID:
465f94ef-324a-4f75-aaba-5c8327dd6ea6
TOM KRAEUTLER: Welcome to the Money Pit Pest Prevention Podcast, presented by Orkin [1]. I am Tom Kraeutler. Well as winter sets in and temperatures dip way down, you might be ready to settle in for the winter. Unfortunately, there are a number of pests, that like to do just that except that they like to settle into your home for the winter. They are collectively referred to as indoor pests and they have an amazing ability to stay shockingly active through the very coldest months of the year. We are talking about insects like, Ladybugs, crickets, fruit flies [2], and even those pests that like to invade your pantries and closets, they are called stored product pests. There are solutions though to remain insect free all winter long inside your house and here to talk about them is Greg Baumann. Greg is the Vice President of Training and Technical Services for Orkin. Welcome Greg.
GREG BAUMANN: Thank you very much Tom, it is a pleasure to be here.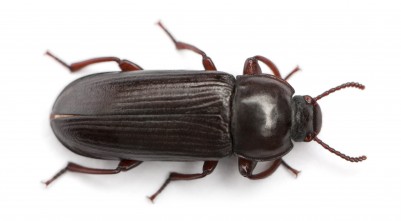 TOM KRAEUTLER: Now I have had these and they can be infuriating because sometimes they are really hard to get rid of and in my home we have a pantry, where we store all of our boxes of foods, rice and cereals, and things like that. I had a situation where I got these little tiny flies that got in there and we kept emptying the closet and cleaning it out and putting it back together and could never quite nail it. Then finally, they left as soon as they showed up. I guess that is what you would call a stored product pest.
[00:01:19]
BAUMANN: Yes, there are stored products pests out there, many of them are mops, believe it or not.
TOM KRAEUTLER: Yes, and so what do you do about them?
BAUMANN: Well, stored products pests are particularly intriguing because they are not going to be out in your face walking across the shelf. They are going to be infesting their food source.
TOM KRAEUTLER: A little sneaky.
BAUMANN: It is a matter of efficiency, it is a matter of them laying their eggs near the food source, let the young grow and then emerge. So probably, the most common type would be Indian Meal Moth and those are those poorly flying moths you see around your pantry from time to time. You want to look at any type of flour that is in there and also with holidays coming up, people like to baking. They might take out flour that they have not had sealed up and they start mixing it up and pretty soon the flour is moving. That is because you have flour beetles. So the most important thing that you can do is whenever you get a grain product, and this also includes pet food believe it or not.
TOM KRAEUTLER: Okay.
BAUMANN: Put it in plastic containers to make sure that you do not allow any infestation to occur.
[00:02:18]
TOM KRAEUTLER: Well that is a good point, so you really cannot trust the paper bag, sort of speak, that flour comes in today. You have to take that and put it in a Tupperware container or something of that nature?
BAUMANN: It could be a Tupperware container; a lot of commercially available containers for flour are out there at any one of the department stores.
TOM KRAEUTLER: Now, if you do get an infestation of these moths in those spaces aside from cleaning out the flour and that sort of thing, is that a situation where you may need to have a professional treat if it gets bad enough?
BAUMANN: Probably more often that not, it is really important to have a professional come in because these moths are unique. They have the eggs that hatch in the flour and they are going to eat the flour. When they emerge though, when they crawl away to pupate or rest before they become flying moths, they are not going to be near the food source. So you really cannot play detective and just look at the food. They are going to emerge and go other places and so that is why a trained professional is much more important.
TOM KRAEUTLER: Good advice. We are talking to Greg Baumann, he is the Vice President for Training and Technical Services with Orkin. Let's talk about another pest that is somewhat annoying, especially in the winter season when we are inside and it is nice and quiet in the house and we hear the chirp of a cricket.
[00:03:27]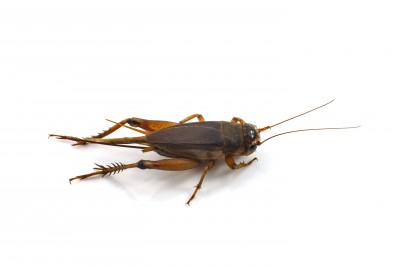 They can be very difficult to find. They love in my experience, damp places, like basements and crawl spaces, and they reproduce quite rapidly. So how do you identify crickets and how do you treat them to make them go elsewhere for their chirping madness?
BAUMANN: The crickets [3] certainly can go late into the season. They really do like moist areas and so basements, crawl spaces, garages; this is where we are going to see more crickets than say inside the house. But then when a stray gets inside the house at two o'clock in the morning and you hear the chirping, it can be somewhat unsettling. There is no question about it that. Probably the best thing you can do is exclude them, so you want to seal up any cracks and crevices. Do not open your garage door and leave it open all day, open it up to get the car or bikes out and close it up again, and that will reduce the chance of them getting in.
[00:04:18]
TOM KRAEUTLER: How do you treat for crickets as a professional?
BAUMANN: You know what? One of the best things you can do is dehumidify [4]. If you have a crawl space or a basement that has a lot crickets and in some states a cricket that has a hump-back. It is called a camel cricket.
TOM KRAEUTLER: Okay.
BAUMANN: What is scary about them and Tom, we have been in enough crawl spaces, these are the crickets that do not jump away from you, they jump at your face.
TOM KRAEUTLER: Yes. [laughs]
BRAUMANN: Okay? Very intimidating. Dehumidification is key and then what we would do as a professional is we would come in and we can use bait, and these baits are very, very effective on crickets.
TOM KRAEUTLER: That is good advice. Now what about Ladybugs [5]? Now there is an insect that most people consider very friendly. In some cultures, they are good luck associated with Ladybugs. But they can really swarm just like any other insect and make quite a mess inside your house.
[00:05:06]
BAUMANN: Yes, and most of the Lady bugs we find inside the house do not want to be there, but they came in there because it is nice and warm, especially in the colder months. So they are outside invaders as we might want to call them and everybody loves Ladybugs, they do a great job outside, they attack aphids or those little tiny pest flies of plants and flowers. So, Ladybugs are great outside. When they get inside our house, then they become a real problem. Probably the best thing you can do, you do not have to worry about anything other than excluding them, keep the doors, windows, and screens in good repair. Vacuum up the Ladybugs [6]and get rid of the bag or empty out the canister as soon as you can. They are just a nuisance.
TOM KRAEUTLER: Yes, absolutely. Greg Baumann is the Vice President of Training and Technical Services for Orkin and we are talking about indoor pests. Those that can show up at the end of the season and can stay with us throughout the winter months. Greg, before I let you go I want to ask you about fruit flies. Now, fruit flies can make an appearance in your fruit bowl sometimes after the fruit starts to turn just a little bit. You may find an orange or something that is deep in the bowl, or an apple that you forgot, and all of a sudden you get a fruit fly problem and once they get out, they are kind of hard to capture.
[00:06:16]
BAUMANN: Fruit flies can be very difficult and it does not even have to be a sign of rotting material. A lot of people think something must be rotten. As you pointed out it could be a bowl of fruit and everything looks nice and edible in there, it is just that fruit flies are around there. Summertime you do not notice them as much because you have doors and windows open, air currents moving all around. Wintertime they are a lot more noticeable but they are year around and probably the best thing you can do is, if you are going to have fresh fruit look for any signs of the flies. If you do see the flies remove the fruit, keep it bagged so you do not have a fruit fly problem. Orkin has some methods to monitor the fruit flies and we have some really good control measures today to eliminate the fruit flies before they get out of hand.
[00:07:02]
TOM KRAEUTLER: Well, that is good to know. Greg Baumann, the Vice President of Training and Technical Services for Orkin. Thanks so much for being a part of this episode of the Money Pit Pests Prevention Podcast. I think indoor pests are the ones we do not expect when it is cold outside. We expect all the insects to go away but when they do show up it is nice to know what they are, and the steps that we can take to try to get them under control. Thanks again.
BAUMANN: Thank you.
TOM KRAEUTLER: And if you would like to learn more about how to identify and prevent pest problems in your own home, you can visit Orkin.com. The Orkin.com site is full of useful information to help you identify and eliminate insect problems in and around your home including a pest library where you will be able to look-up any pest you come across in your home as well as locate a local Orkin Pest Control pro to help eliminate those pests. It is all online at Orkin.com. Orkin, pest control down to a science. I am Tom Krauetler, thanks for listening.