Learn how to avoid wood destroying termites from infesting your home and find out which kind of termite is considered the most aggressive, with colonies that are more than ten times larger than other termite colonies.
TOM KRAEUTLER: Welcome to The Money Pit Pest Prevention [1] Podcast presented by Orkin. I'm Tom Kraeutler. Well, as the weather warms it's always great to be able to get out of the house and start to enjoy the sunshine. But it's also the time of year when termites do exactly the same thing. Termites nest deep in the soil around your house and when spring starts to thaw that ground they'll start to swarm, and when that happens it's often quite dramatic. But besides having to deal with potentially hundreds of flying insects, the presence of those swarms leaves no doubt that termites are not only living in, under, or around your house, they may very well be destroying your home as well. Greg Baumann is the Vice President of Training and Technical Services for Orkin [2] and joins me now with tips on how to protect your home from these wood-destroying insects. Welcome, Greg.
GREG BAUMANN: Well, thank you very much, Tom.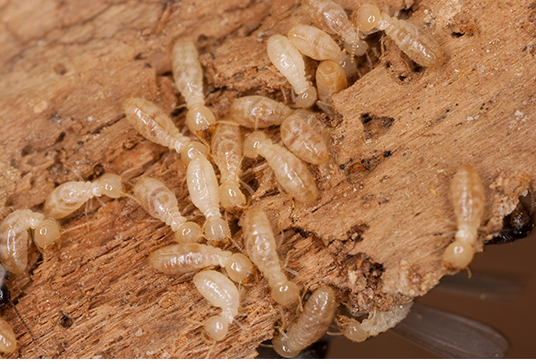 [2]TOM KRAEUTLER: Well, it's great to have you. And coming up on this episode we're going to talk about which kind of termite is considered the most aggressive, with colonies that are more than ten times larger than other termite colonies. [1:00] Also ahead we're going to find out the most common mistakes homeowners make that helps attract termites to their homes. And we're going to learn how an integrated approach to pest management can reduce the risk that your home will not add to the $5 billion in damage done annually by termites. So Greg, in the 20 years that I spent as a professional home inspector, we used to say that there are three kinds of houses out there: those that have a termite problem, those that had a termite problem, and those that will get a termite problem. How big of a problem are termites in this country?
GREG BAUMANN: Well, termites are a huge problem, Tom. In fact, the National Pest Management Association estimates that just the damage—this does not include treatment, but just the damage from termites—will exceed $5 billion.
TOM KRAEUTLER: Wow.
GREG BAUMANN: And that's a pretty amazing amount. And also people believe that these are just pests of the deep south. That's not true at all. Believe it or not, Tom, there are termites that are very active in Toronto, Canada.
TOM KRAEUTLER: Wow. So even cold weather. Toronto. Alaska? [2:00]
GREG BAUMANN: In fact, Tom, there's only one state in the country where we really have had no experience in termites at all, and that would be Alaska.
TOM KRAEUTLER: So if you're in Alaska you're safe, the rest of the country though you really have to guard against termites. So let's talk about how termites live and how they infest your home. I mentioned that they stay and they start in the ground, that's where the nests are?
GREG BAUMANN: Well, most termite species are going to be subterranean termites. You have the ones that were naturally found here, the native subterranean termites, and then also the Formosan subterranean termites, and that is a voracious species that's only found in the deep south at this point.
TOM KRAEUTLER: Now, the Formosan termites are the ones that will actually be ten times more active than a standard subterranean, correct?
GREG BAUMANN: That's exactly right, and the population of a colony could exceed a million. And it's a huge, huge problem, especially in New Orleans with some of those historic buildings that are being destroyed.
TOM KRAEUTLER: Yeah, in fact I've been in New Orleans and I know that they've done extensive work to try to prevent the Formosan termites from destroying some of the most valuable buildings in that city. [3:00]
GREG BAUMANN: Well, that's exactly right. In fact, the Federal government has stepped in with program to try to control the Formosan termite in New Orleans.
TOM KRAEUTLER: Now, is it more difficult to control termites in an area like that where the buildings are so close together and in fact one building is attached to the building next to it?
GREG BAUMANN: Well, termites spread a lot faster when you have a voracious species like this, as well as close proximity, and construction techniques from 300 years ago.
TOM KRAEUTLER: And they don't respect property lines, do they?
GREG BAUMANN: They do not know how to read.
TOM KRAEUTLER: All right, so we have subterranean termites, we have Formosan subterranean termites. Other types of termites in the country in the country that we're concerned about, we have the Asian termite. What is the Asian subterranean termite?
GREG BAUMANN: The Asian subterranean termite is an invasive species as we call it, which means that it's recently brought into the country. And just like the Formosan, the Formosan termite's only been here about 100 years or so, but it's already being found in multiple states and as far north as North Carolina with just an isolated infestation. [4:00] So we're seeing that these pests can get rides on railroad ties or mulch and be moved to other parts of the country. And we suspect this is going to happen with the Asian termite as well.
TOM KRAEUTLER: So you've got the native subterranean termites, you have Formosan termites, you have Asian termites. Those three species of termites all live in the soil and need moisture to survive. But there's another type of termite that doesn't moisture, certainly not as much moisture, it's called dry wood. What's the dry wood termite?
GREG BAUMANN: That's exactly right, Tom. The dry wood termite is found primarily in southern California and southern Florida, but there are pockets in other areas, especially when people move infested furniture to other areas. And these are going to be relatively small colonies, but they do not have to go back to the soil. They're going to be commonly found in furniture, in attics, inside walls. And they live in the wood, never have to go back to get moisture.
TOM KRAEUTLER: Now, do the dry wood termites travel from house to house? Do they show up because maybe you buy a piece of furniture and they're in the furniture? How do they get in? [5:00]
GREG BAUMANN: One of the most common ways for dry wood termites to be spread is people move furniture from the south where they're more common, you know, a picture frame or antique furniture, and pretty much a house in Rhode Island's infested.
TOM KRAEUTLER: Wow. So what are some of the signs that a consumer would look for where they would know that they have a termite problem?
GREG BAUMANN: Well, a couple different ways. First of all, in spring—and depending on the species, because the Formosan does this in the summer—they're going to swarm or send out winged reproductives to start new colonies.
TOM KRAEUTLER: Now, when that happens it's pretty dramatic. I actually had a personal experience with that. I came down early in the morning, the lights were off, I turned the lights on, and from the other side of the room I saw this sort of dark debris across the countertop and I thought that somebody had spilled coffee, until I got closer and saw that it was moving.
GREG BAUMANN: Oh, wow.
TOM KRAEUTLER: So we had a swarm inside the house, inside the kitchen. Never had had a problem with the house before, but it was a crawlspace underneath that area that was very, very narrow, almost impossible to get in, where they had found that one weak link in my house and actually formed, and so we had to take care of that problem. [6:00] So it doesn't really matter who you are, they don't respect the fact that there was a home improvement expert living in that house, they gave me a bit of my own medicine and swarmed my house, they can swarm your house. If you don't happen to spot a swarm though, what are some of the other signs?
GREG BAUMANN: Well, sometimes the subterranean termites will build tubes. Remember, these are very, very delicate insects. They cannot come out into the sun, they can't come out into the air. So in order to be protected they will build these little mud tubes that look like straws attached to the foundation—it could be inside a crawlspace, inside a basement or on the outside of a house—and this will provide the protection they need to get inside a structure. Another thing, for dry wood termites for example, the little granules of wood-color pellets essentially that they kick out as they hollow out the wood, those are very common signs for dry wood termites.
TOM KRAEUTLER: Now, I think it's important to note that this is a type of wood-destroying insect that can be difficult to spot, because when they start to do their work they're really usually working in an area that's sealed. [7:00] I mean, they could be inside the wood. Even if the wood is exposed, they can tunnel inside the wood. You know, as a former professional home inspector, we used to tap on all the lumber. But there are these techniques that you pick up as a pro, which is why I think it's important to have an annual inspection done by an expert if you live in an area of the country where termites are an issue. It's really a wise thing to do, because the quicker you find them the easier it is to prevent serious damage.
GREG BAUMANN: Yeah, it's just good maintenance. You know, people today, Tom, are keeping their houses longer, they're putting money into the house, they're remodeling them as opposed to moving. And what might just appear to be a defect on the baseboard or a defect in the drywall might be termites. And so it's really important to have someone come out at least once a year, do an inspection, and essentially kick the tires of that house to see what is going on.
TOM KRAEUTLER: Well, let's talk about that. When a professional does a termite inspection, you know, you're in charge of training for Orkin, how do you train your professionals to thoroughly inspect the house? [8:00]
GREG BAUMANN: Well, to summarize it, you gotta think like the bug. Okay?
TOM KRAEUTLER: Okay.
GREG BAUMANN: That's really the key. You have to understand the biology, you have to understand when they're active, but just as importantly where they're active. What signs are going to lead to termites? And try to come up with some sort of early warning technologies so that we can inspect, we can probe, we can sound the wood, listen to certain sounds and say, "Ah ha, there might be a problem," and then zoom in on it. That's the key of integrated pest management, zooming in on it and finding what exactly is going on, whether there's an infestation there, and whether a treatment is necessary.
TOM KRAEUTLER: Now, speaking of treatments, what is the proper approach to eliminate a termite infestation in your home?
GREG BAUMANN: Well, there are a couple different things that can be done. First of all, treatment of the soil is the most traditional way. There are also baits, these are stations that would go outside of the house. And then if it's a dry wood colony, you can use fumigation or a liquid application to the infested wood itself, it'll penetrate the wood and control the termite.
TOM KRAEUTLER: Now, I think the treatment of the soil is interesting, especially since today we're using non-detectible termiticides. [9:00] So it used to be that the termites would sense the termiticide and stay away. But now they can't sense it, so they go through it, get it on their bodies and take it back to the nest, and that makes the treatment much more effective, correct?
GREG BAUMANN: And that's exactly correct. A termiticide is really a product that's specially formulated to control termites. And so in the past a barrier essentially would be put around the house, they would sense it, go the other way. The problem with that was, there might be a water line there, so you're creating these gaps by having a non-repellant as we call it, or today's type of termiticide where they don't sense that there's a problem, they take it back to the colony and it controls the colony.
TOM KRAEUTLER: One of the things I like about Orkin's approach is it truly is an integrated pest management approach. So not only are we doing thorough inspections, we're treating properly, we're also teaching consumers how to prevent these infestations around their homes. And there are a lot of things that you can do to make your house less attractive to termites. Some of the common mistakes that I saw as a former inspector were people that were putting termite food against their house. [10:00] So what's termite food? Firewood piles, cardboard boxes. I mean, today we're recycling all of our cardboard. Piling that up around the house is really like throwing red meat to the lions, isn't it?
GREG BAUMANN: Oh, it sure is. Any time you're putting a food source out there you certainly can have a huge population build up right next to the house. And what's the next step? Just go right to the house. And they're not seeking out your house, but it's a food source that's sitting right there.
TOM KRAEUTLER: Well, there you have it, a very thorough explanation. Thank you so much Greg Baumann from Orkin, the Vice President of Training and Technical Services. Now we really know… you've really helped us understand termites, the different types of termites, and most importantly what we can do as consumers to help keep them out of our house. Thanks.
GREG BAUMANN: Thank you, Tom.
TOM KRAEUTLER: And if you'd like to learn more about how to identify and prevent all sorts of pest problems around your home you should visit Orkin.com. I highly recommend the Orkin website, it's full of useful information to help you identify and eliminate insect problems, including a pest library, very handy to have. [11:00] When you see a pest crawl through your house, you can snap a picture of that pest and perhaps go to Orkin.com and look it up and understand exactly what the insect is and how to prevent that insect from coming into your house, and most importantly how to find a local Orkin pest control pro to do that job for you. It's all online at Orkin.com. Orkin, pest control down to a science. Thanks so much for listening, I'm Tom Kraeutler.