Find out how to maintain your water heater. Learn when you should change the sacrificial anode rod (or the heating elements on an electric heater) and why you should flush the sediment every year.
LESLIE: Well, when you want hot water, you walk up to your sink, your tub, your shower; you turn on the faucet and there's the hot water. Until that day you turn that faucet and it is just not there. Well, that's probably the only moment that you actually stop to think about your
water heater
. Well, it turns out you need to think about it a little bit more than at that moment.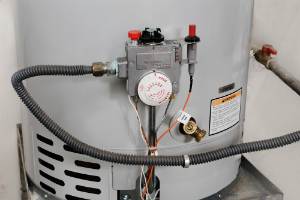 TOM: That's right. A little maintenance of your water heater is the only way it will last year after year. Here to tell us exactly what to do is
This Old House
host
Kevin O'Connor
and the program's plumbing expert,
Richard Trethewey
.
Welcome, guys. Where do we begin?
KEVIN: If you have a
tank-type water heater
– maybe one that's 40, 60 or even 80 gallons big – you probably don't think about it much but these appliances are working in our houses every, single day; so they do require some regular maintenance to keep them running.
So Richard, what should we be thinking about?
RICHARD: Well, most people do absolutely no
maintenance on a water heater
and that's a big reason why they fail on average of every seven to ten years. Probably the best thing you can do is to flush sediment out of the tank every year. There's a little drain down at the bottom of the water heater and that's the place where any sediment will collect and you can flush that into a bucket.
Now you also have a sacrificial anode inside of any water heater and that should be changed every two to five years, depending on water quality in the area. And on
electric water heaters
, you may need to actually change the heating elements to improve their efficiency.
KEVIN: And how about regular maintenance? Is that going to help extend the life of the heater?
RICHARD: Absolutely. Some people have kept their water heaters running for 15 to 20 years and they'll operate more efficiently.
TOM: Richard, what do you think about the pressure-and-temperature valve? Do you think you ought to open that up and clean that out occasionally or is that kind of opening a Pandora's box?
RICHARD: Absolutely, Tom. If you lift that little lever on the TMP, there's a good chance it's going to not seal again, so I wouldn't touch that unless you had to.
TOM: (chuckles) So for that, leave well enough alone.
Richard Trethewey, Kevin O'Connor, thanks for stopping by The Money Pit.
KEVIN: Great to be here.
LESLIE: Good tips.
Hey, if you water heater is actually getting near the end of its lifespan, there's never been a better
time for replacement
. There are federal tax credits for energy-efficient home improvements and they are still up for grabs.
TOM: Good point.
For more tips from the team at This Old House, you can watch This Old House plus Ask This Old House on your local PBS station, sponsored by Stanley. Stanley is a proud sponsor of Ask This Old House. Stanley – make something great.