When you're decorating and doing projects around your home during the holiday time crunch, it helps to have the right tools to get the job done fast. It's best when you've got a tool that can multi-task… to save money for the things that really matter.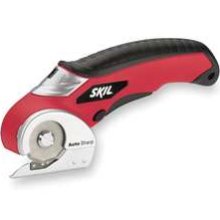 The Skil Power Cutter [1] is a very versatile tool that can be used again and again for dozens of holiday projects and chores, such as opening shipping boxes, snipping floral wire and cutting fabric for a festive table runner.
The Skil Power cutter has a precision blade, a 3.6 volt Lithium Ion Battery and a comfortable grip. Cut through dozens of materials too tough for scissors and without dangerous knife blades.
The Skil Power Cutter can cut through metal, plastic, cardboard and carpet – making it the perfect tool for your holiday projects. The bonus is it can also be a go-to cutter for all of your household jobs too – it cuts through denim, leather, cardstock, old credit cards – and that frustrating clamshell packaging standing between your family and their new gadgets and toys!
With powerful lithium ion technology, and an auto sharp blade system, Skil's lightweight power cutter will soon become your favorite holiday tool. Look sharp, cut sharp. The SKIL Power Cutter!