When choosing building materials for their homes, many people are drawn to natural options, especially for exterior features that will be highly visible. The appeal of real wood is hard to dispute, but the downside is a painstaking maintenance routine to stave off the ravages of the elements, pests and other stressors.
Fortunately, today's synthetic products offer authentic looks while providing the durability and easy upkeep that their natural counterparts lack. These three low-maintenance home upgrades will cut down your future chore load so you can spend more time simply relaxing and enjoying the beauty of your abode.
Engineered siding. Natural cedar siding is lovely, but susceptible to water absorption that causes cupping and curling. Grayne is the first-ever engineered polymer replacement for natural cedar shingles and other hard board siding. It is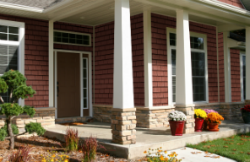 prefinished, instantly delivering the look of aged cedar but eliminating the issue of moisture absorption.
Grayne's 5" Plain Sawn Shingle offers the charm of natural cedar with none of the maintenance. The shingle's graining patterns create natural depth and shadows for a striking on-house appearance. Grayne was designed to keep its shape over time, and is easy to clean and maintain. It has a class 1A fire rating and a high-performance, weather-resistant cap. It's the perfect high-end, low-maintenance solution for any homeowner.
Composite decking. Decks have traditionally been constructed of southern yellow pine that's been pressure-treated to prevent rot. Wood decks are the least expensive but can be troublesome to maintain. Even wood that is decay-resistant will warp and split, making the deck uncomfortable for bare feet and possibly unsafe. If your budget is healthy and your tolerance for maintenance low, consider one of the many high-tech alternatives to wood decks.
Typically, composite decking materials are not used for building the structural components of a deck. The floor framing and support structure are usually made of pressure-treated lumber, with the composites used for the decking and rails. Although more expensive than wood, the marginal cost increase of building a deck with composite can be offset by the material's maintenance-free features.
Extruded PVC trim. Few other building components say "finishing touch" more than the trim. Whether it's the corner boards of siding, the fascia, soffits or ceilings, trim is like the frame on a piece of art. However, it can be one of the more difficult pieces to maintain. For example, fascia boards, the section of trim behind the gutters, can be impossible to properly paint without removing the entire gutter.
A better option is one of the composite trim products on the market. For example, extruded cellular PVC needs no paint, can't rot, and is cut or drilled just like real wood. It can be used for all non-stress bearing areas of the home, such as soffits, fascia, porch ceilings and window and door trim. It's a great option for homes that are plagued with carpenter bees or woodpeckers – take away the food source, and these pests will be gone.
You don't have to use real wood to get a wood look for your home's exterior. In fact, using wood alternatives will cut way down on your honey-do list. For much easier maintenance without losing the charm of wood siding, decking and trim, consider upgrading to manmade materials.